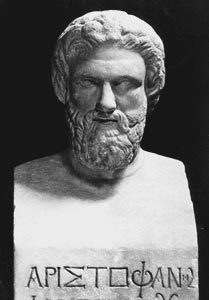 Name:

Aristophanes

Born: c. 446 BC
Died: c. 386 BC (aged c. 60)
Occupation: Playwright (comedy)
Known for: Playwright and director of Old Comedy
Aristophanes (/ˌærɪˈstɒfəniːz/; Ancient Greek: Ἀριστοφάνης, pronounced[aristopʰánɛːs]; c. 446 – c. 386 BC), son of Philippus, of the deme Kydathenaion (Latin: Cydathenaeum), was a comic playwright of ancient Athens and a poet of Old Attic Comedy. Eleven of his forty plays survive virtually complete. These provide the most valuable examples of a genre of comic drama known as Old Comedy and are used to define it, along with fragments from dozens of lost plays by Aristophanes and his contemporaries.
Notable Works: The Clouds (423 BC), The Wasps (422 BC), The Birds (414 BC), Lysistrata (411 BC), The Women at the Thesmophoria Festival (411 BC), The Frogs (405 BC)
Birth Place: Athens
Death Place: Delphi
Source: Wikipedia
Aristophanes quotes :
---
Related to Aristophanes quote authors :