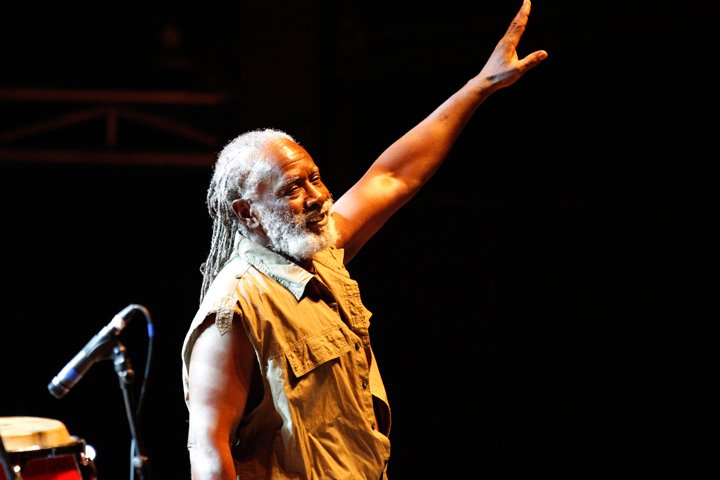 Winston Rodney OD (born 1 March 1945), better known by the stage name Burning Spear, is a Jamaican roots reggae singer-songwriter, vocalist and musician. Burning Spear is a Rastafarian and one of the most influential and long-standing roots artists to emerge from the 1970s.
Birth Name: Winston Rodney
Alias: Winston Rodney
Genre: Reggae, dub
Birth Place: Saint Ann's Bay, Saint Ann, Jamaica
Website: www.burningspearwebsite.com/
Source: Wikipedia
Bio on IMDB: Burning Spear
Burning Spear on Soundcloud: burningspearmusic
Montraux jazz festival in Europe:
Although the first recordings credited to 'The Burning Spears' featured a harmony group, Burning Spear will always be identified as Winston Rodney, the singer-songwriter who assumed the moniker of Kenyan freedom fighter Jomo Kenyatta during the late 1960s.
You can hear something of a country style in the vocal work of Burning Spear, and this is partly because Rodney was born in the northern country town of Saint Ann's Bay in 1948. In his teen years, the young Winston worked at several menial jobs, all the while writing his own songs and honing his singing skills, and gaining a strong awareness of his African heritage by reasoning with the village elders, who first informed him of Garvey's teachings and the Rastafari livity.
Read more on factmag.com
Burning Spear quotes :
---
Related to Burning Spear quote authors :