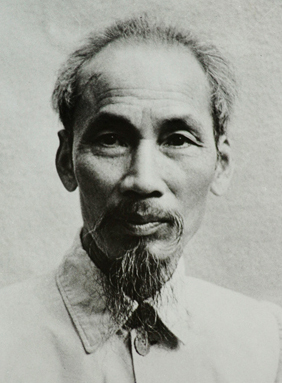 Name:

Ho Chi Minh

Born: 05/19/1890
Died: 09/02/1969 (79 years old)
Profession: Politician
Hồ Chí Minh (/hoʊ tʃiː mɪn/; Vietnamese:[hò cǐ mīŋ̟] listen), Saigon:[hò cǐ mɨ̄n]; Chữ nôm: 胡志明; 19 May 1890 – 2 September 1969), born Nguyễn Sinh Cung, also known as Nguyễn Tất Thành, Nguyễn Ái Quốc, Bác Hồ ("Uncle Ho") or simply Bác ("Uncle", pronounced[ʔɓaːk̚˦˥]), was a North Vietnamese revolutionary and politician. He served as Prime Minister of North Vietnam from 1945 to 1955 and President from 1945 to 1969. Ideologically a Marxist–Leninist, he served as Chairman and First Secretary of the Workers' Party of Vietnam.
School: Communist University of the Toilers of the East
Alias: Nguyễn Sinh Cung
Party: French Section of the Workers' International, (1919–1921), French Communist Party, (1921–1925), Communist Party of Vietnam, (1925–1969)
Birth Place: lang|vi|Kim Liên|italic=no, nocat=y Province, French Indochina
Death Place: Hanoi, North Vietnam
Source: Wikipedia
Ho Chi Minh quotes :
---
---
Related to Ho Chi Minh quote authors :