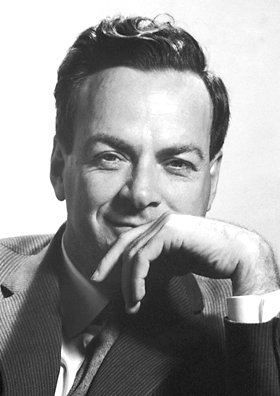 Name:

Richard Feynman

Born: 05/11/1918
Died: 02/15/1988 (69 years old)
Known for: Manhattan Project, , Acoustic wave equation, , Bethe–Feynman formula, , Feynman checkerboard, , Feynman diagrams, , Feynman gauge, , Feynman–Kac formula, , Feynman parametrization, , Feynman point, , Feynman propagator, , Feynman slash notation, , Feynman sprinkler, , Hellmann–Feynman theorem, , V−A theory, , Brownian ratchet, , Feynman–Stueckelberg interpretation, , Nanotechnology, , One-electron universe, , Parton, , Path integral formulation, , Playing the bongos, , Quantum cellular automata, , Quantum computing, , Quantum electrodynamics, , Quantum hydrodynamics, , Quantum turbulence, , Rogers Commission, , Shaft passer, , Sticky bead argument, , Synthetic molecular motor, , The Feynman Lectures on Physics, , Universal quantum simulator, , Vortex ring model, , Wheeler–Feynman absorber theory
Richard Phillips Feynman, ForMemRS (/ˈfaɪnmən/; May 11, 1918 – February 15, 1988) was an American theoretical physicist, known for his work in the path integral formulation of quantum mechanics, the theory of quantum electrodynamics, the physics of the superfluidity of supercooled liquid helium, as well as his work in particle physics for which he proposed the parton model. For contributions to the development of quantum electrodynamics, Feynman received the Nobel Prize in Physics in 1965 jointly with Julian Schwinger and Shin'ichirō Tomonaga.
Birth Name: Richard Phillips Feynman
Awards: Albert Einstein Award, E. O. Lawrence Award, Nobel Prize in Physics, Foreign Member of the Royal Society, Oersted Medal, National Medal of Science
School: Massachusetts Institute of Technology (S.B. 1939), Princeton University (Ph.D. 1942)
Alias: Richard Phillips Feynman
Birth Place: New York City, U.S.
Death Place: Los Angeles, California, U.S.
Source: Wikipedia
Richard Feynman quotes :
---
---
---
---
---
---
---
---
---
Related to Richard Feynman quote authors :