Wedding
How to choose your wedding dress (With Examples)
The fundamental guide to choosing your dream wedding dress
Every girl dreams of having the most beautiful wedding ever! Fantasizing about THE DRESS and walking down the aisle while everyone is astonished by her look. 
Has that happened to you?
Trying to find your dream dress can be very stressful. Nevertheless, most likely you have never tried one on before, and it's one of the most costly articles of clothing a woman ever owns, so it can be overwhelming and pressure might build up while you are shopping for a wedding dress.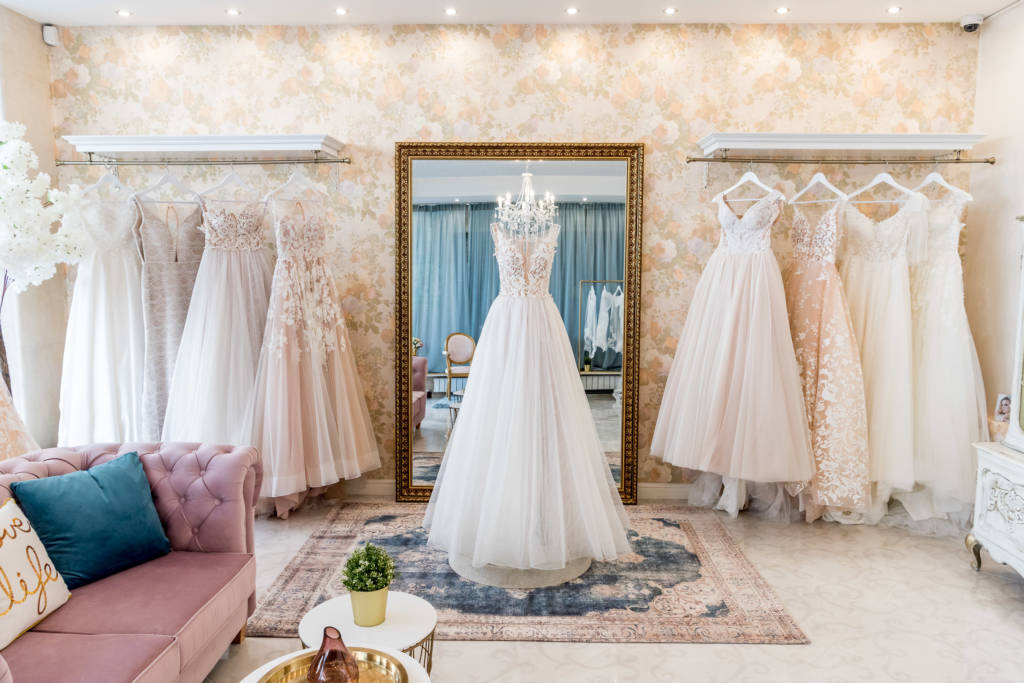 What may also become overwhelming is trying to decode all of the silhouettes – similar to learning a new language – mermaid, fit and flare, modified a-line, sheath, A-line, organza, and the list goes on.
If you want to learn a little more about dress terminology, check out dressanomalie's guide to wedding dress terminology.
Another trend seen in previous years is the fact that brides are choosing multiple dresses – a formal one for the ceremony and a party-centric (a dress easier to dance in) one for the reception, which makes the shopping even more tense.
Moreover, the dress you choose will set the tone for the entire wedding, no matter what venue and wedding decor you select.
When I was a bride I didn't have anyone to guide me and give me useful tips in order to save time as well as understand how important the dress actually is in regards to the wedding style you pick.
So, from personal experience, I have created this fundamental guide on Wedding dress shopping, from finding your dream dress to selecting the ideal veil and bridal accessories.
Use these tips and tricks so that you find "The Dress" while having a blast doing so!
All eyes are always on the bride. Not to mention the memories which you'll have for years to come, photos and videos, you want to make sure you look impeccable for your big day.
But what is your image of impeccability?
For some brides the wedding dress should be a princess-like ballgown. Others look for a sexy sheath dress that will show off her lovely curves, or a look which enables her to dance freely.
The selection process might seem mind-boggling. However, no matter your personal style, timeline, or budget this fundamental guide will most certainly help you find the wedding dress of your dreams.
It's guaranteed that you will love it now, on your wedding day and 25+ years from now when you look through your wedding videos and photos.
Question is:
How is it possible to choose only one dress?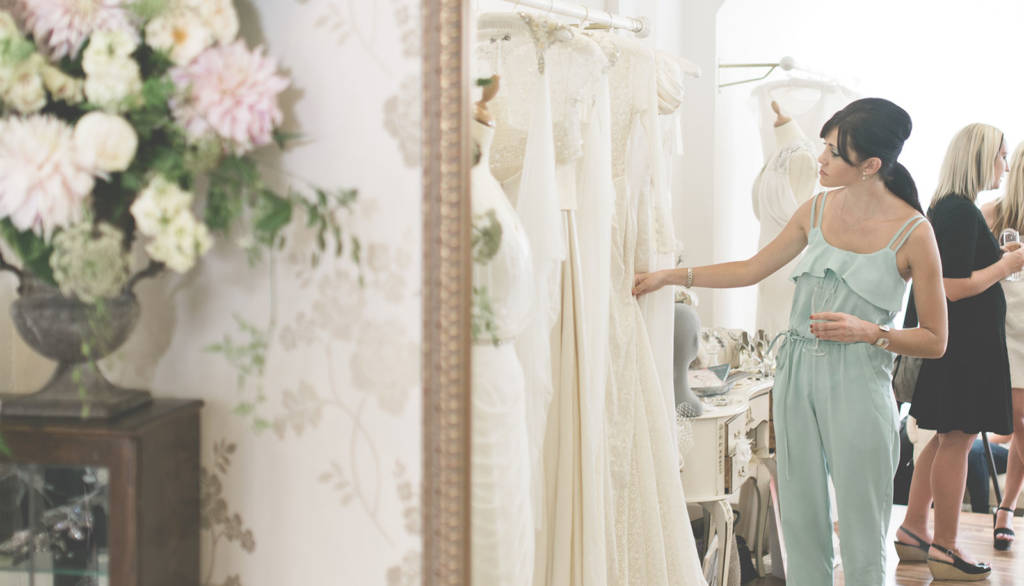 Of course, you cannot try on all the dresses in the catalogue and most likely you will be disappointed as they will let you choose a few of them to try on during your appointment at the bridal boutique. 
Here it gets tough. The elimination begins.
The first time you go and try on wedding dresses is the hardest; you don't know what style suits your figure best. 
Bridal Tip: What I would suggest for the first time fitting is to try one from each style that catches your eye. This way you will be able to determine what you like, what fits you best, and from that point forward you will know which type of dress suits you the most, thus what style to look for.
I guarantee you that once you go home after the fitting, some of the pictures you downloaded to your phone or computer will be deleted.
Why? Well, what looks great on photographs doesn't mean it will look as good on you. Don't forget that wedding catalogues are created to make sure you like what you see and to make you want it.
This is the best way to eliminate what you don't like and what you will be definitely searching for in the future. 
That said:
Here's what you need to do in order to find your dream wedding gown:
Make sure to shop early
Begin trying on dresses 10 to 12 months prior to your wedding day. This way you can have the time to choose what suits you best and be able to order in by the 6 to 8 month deadline that most bridal salons request.
In case you do not have that much time you still have the option of getting a "made-to-order-gown". These gowns can be made in about 4 weeks. Just make sure you are ready to pay for this, as it usually costs an extra 10 to 15%, which does not include rush alteration fees.
If you do have the time, know that most wedding gowns take between 4 and 8 months to be produced, and once your dress arrives, you have to make sure that there is some extra time for adjustments and adding any accessories that you desire.
However, keep in mind that if you have a long engagement and you begin your dress shopping too early, the one you have bought might have gone out of style, or there is a chance you might find another one which suits you better.
Personally, I began looking and trying on dresses a year and a half prior to my wedding. Honestly, it was way too early because everything was so far away and at that point we didn't even have a date set, nor had we thought about what type of wedding theme we would like to have.
Bridal Tip: Try and figure out what the best time to buy your dress is. Take into consideration some aspects such as your budget, wedding theme, venue, and whether you want to create your own style dress rather than purchasing one from a bridal boutique.
Conduct Research
Searching the web to find the best looking, most ravishing dress there is, is a journey that every girl makes. From the design to the shade of color you choose – what can possibly be the perfect fit?
Here is what you should start with:
Grab some magazines and rip out a few pages you like

Explore ideas on

Pinterest

Search the web to find bridal boutiques and see what they offer

Check out

celebrity brides

and what styles they have chosen based on their figure
After going through different sources and you have picked out your favorite gowns, go through them again and try to pinpoint a connecting theme. For instance, are they lacy, voluminous, tight fit, embellished? Are they all with an open back? Find a few similarities among them, compile them and bring them with you for your first fitting.
Even though this is a great first step, keep in mind that what you see on photographs might look absolutely stunning, however can you really determine what look you should go with just by judging from a few photos online or a magazine?
Advice: Go and try some on!!! That will be a game changer.
Choose your wedding theme in advance
Prior to dress shopping, determine the theme of your wedding, whether it would be a formal, rustic, garden party, vintage, etc.
Keep in mind your theme and venue during your shopping spree, because in the end you want your dress to match the style of your wedding so that everything fits perfectly.
Plan your budget
Before you begin booking appointments with bridal boutiques, make sure you know who is paying for your wedding gown (you and your partner or family members), so that you know what budget to work with.
Bridal tip: Let's say the budget for your dress is $3,000, you shouldn't buy a dress worth the same price. Why? Well because you have to take into consideration aspects such as accessories (shoes, veil, jewellery, purse, etc.) and tailoring.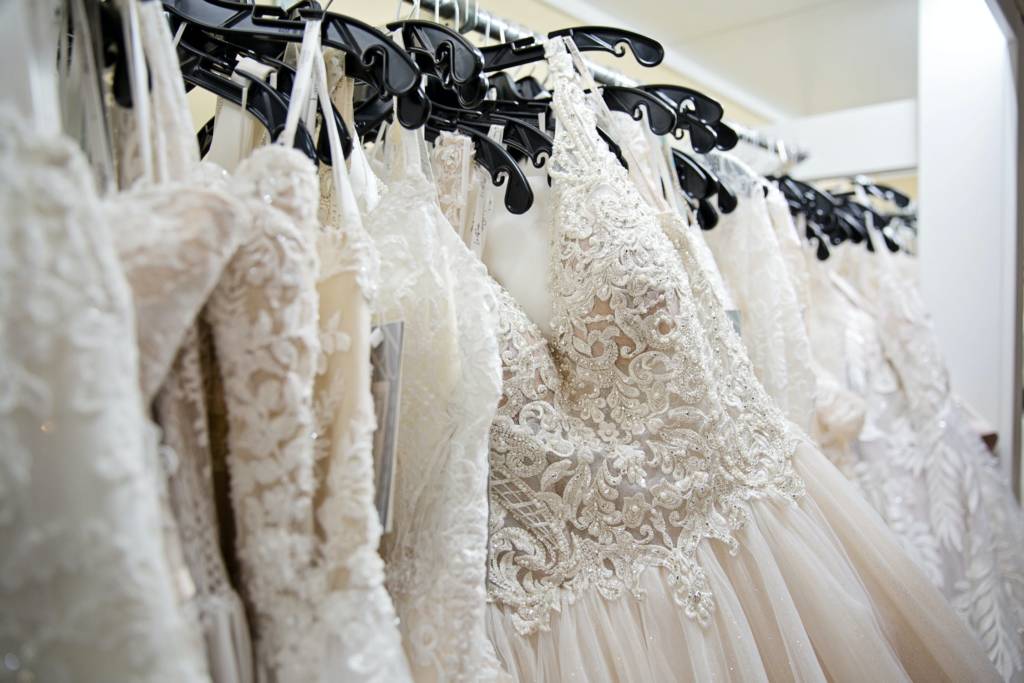 Second hand dresses
If your budget is small and you want to save some money, you can also look for a second hand gown.
Check out these top 3 online websites that offer used wedding dresses:
Once Wed: you can filter through on the condition of the dress you would like, your price range, a designer if you have one in mind, etc.

Pre owned wedding dresses:

this is another great option where you can shop by size, designer, and even go through some useful accessories.
Still White:

The wedding dresses which you will find here are sold by brides just like you. You can find new and used wedding gowns with great discounts. It is considered the "world's largest wedding dress marketplace".
Renting a wedding dress
Another option you might want to consider in order to save money is to rent a wedding gown.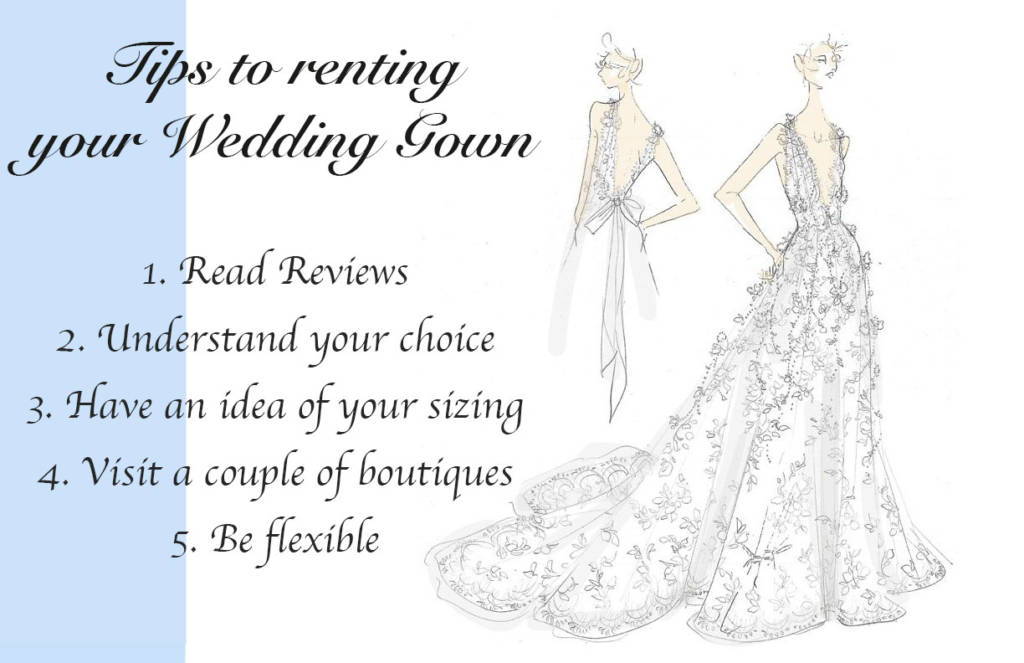 Instead of buying, some bridal boutiques offer to rent a dress for your wedding day. However, remember that there are both pros and cons to a rental.
Pros:
When renting a wedding gown you don't have to think about cleaning, preserving and storing the dress afterwards.
Cons:
Nonetheless, you might have limited options, you will be responsible for any damages and the sentimental elements won't be the same.
Click here to review some aspects before deciding to rent a wedding dress.
How to choose an Exceptional Bridal Boutique
Do not forget to conduct thorough research on bridal boutiques you want to visit.
If you want to save yourself some time, make sure the shop offers dresses that interest you and provides great customer service.
Ask around and get referrals from your married friends. Also, check out online reviews in order to find bridal salons with substantial reputations.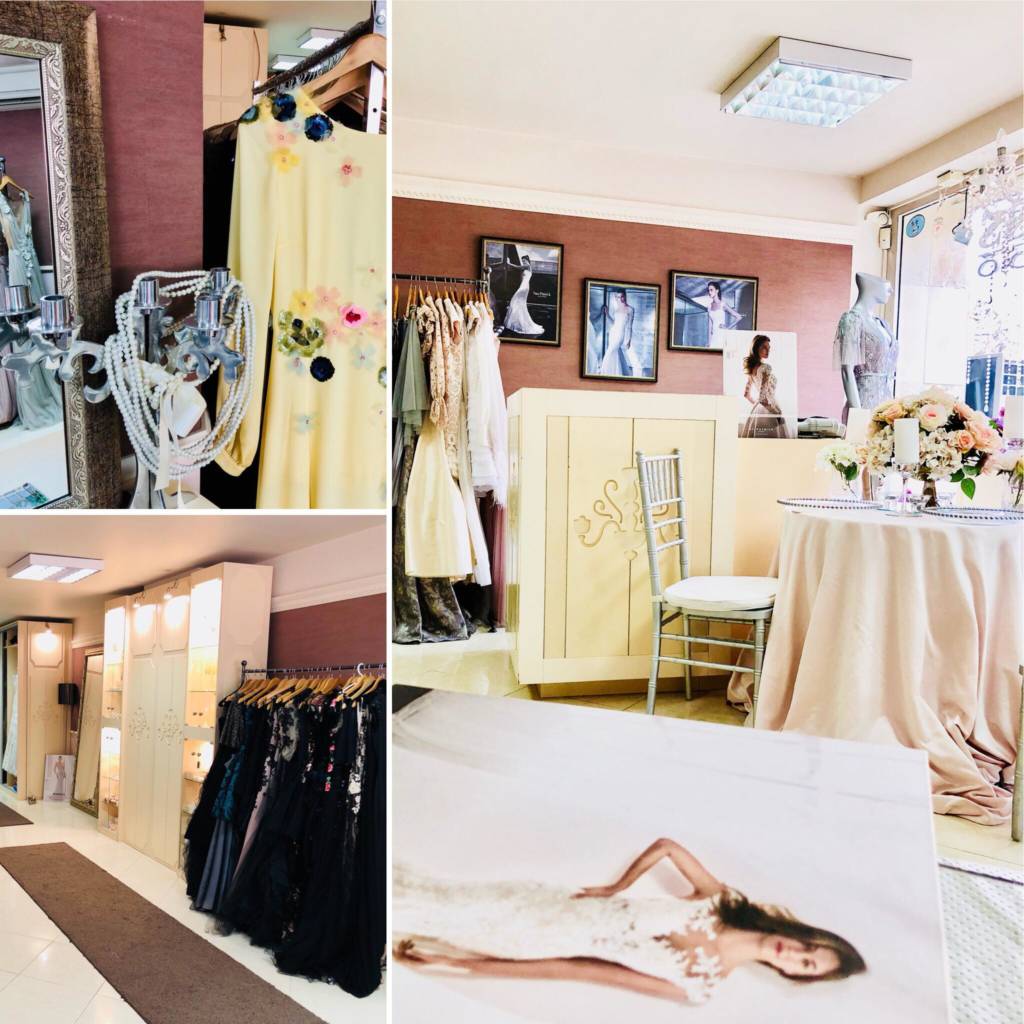 After determining which Bridal boutiques you would like to make appointments with, call them ahead of time. Gather the information which interests you, such as;
if they offer the type of dress you are searching for;

what their price range is;
This will save you a lot of time and effort before making a visit to the boutique.
Once you are at the salon, you will notice that the gowns aren't displayed in the same way you are used to in a retail store. You won't be able to browse through them all on your own. For this reason, you have to make an appointment with a bridal consultant in order for them to help you with the selection and trial.
Bridal tip: Book your first appointment with the least-expensive bridal salon. If you don't find anything that suits you there, keep going up until you do. The same tip applies for the dresses you try on. First try on the cheapest one, and keep going up until you reach the most expensive one (based on your budget). This way you might automatically choose a less expensive dress without even trying on the high-priced ones.
Trying on dresses
At the bridal boutique you will be warmly welcomed to look through their bridal catalogues and pick a few dresses to try on.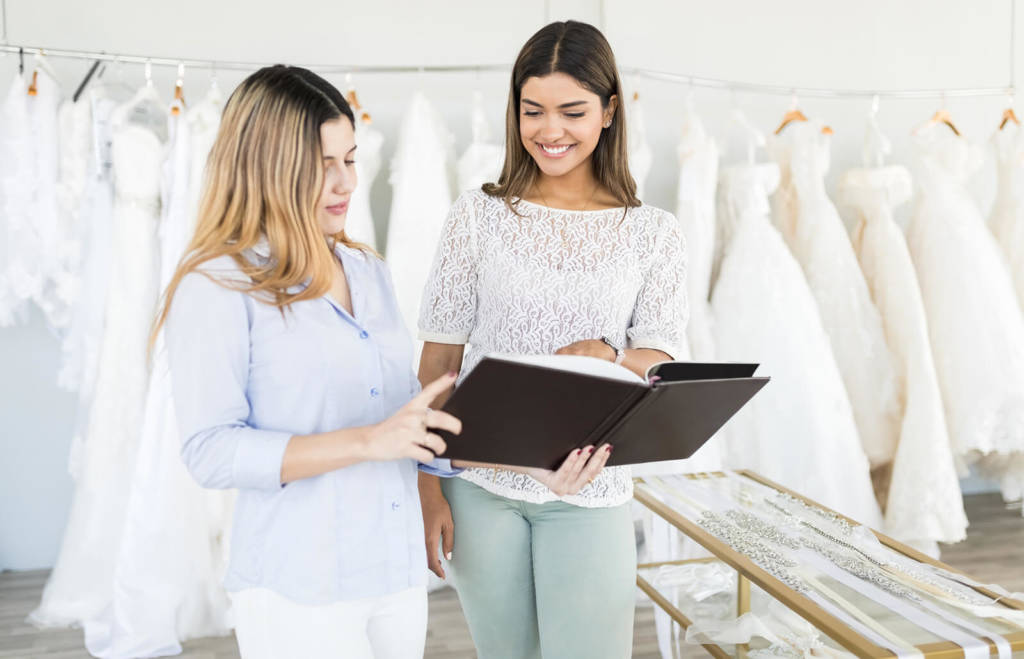 Oh trust me it gets overwhelming as there are SO MANY beautiful gowns that you just want to put on and leave with. 
To steer your bridal consultant in the right direction, bring photos of your color palette, your venue, and dresses which you admire. They will most likely tell you that nearly all brides usually walk in with a set idea of what they see themselves in so they try it on and in the end they don't actually like what they see. Instead, they are head over heels for something that they have never considered previously.
Remember to keep an open mind during your wedding dress shopping spree. You might leave with a dress that you have never thought or known that it would be your dream dress.
For every girl this experience will be different, some will find their dress from the first try and others will go on to different bridal boutiques and they will be so confused that they will not know what to do next. 
So, let's take a look at how we should prepare ourselves for our wedding gown shopping spree.
Shopping for The Dress
Shop during the week
Bridal boutiques during the weekends are a nightmare. In order to avoid this and make sure you get that extra attention, try to visit a bridal salon during the week.
Use some personal time off from work, so that you can save yourself some trouble.
Make sure to free your entire day
Trying on gowns can take a long time. Putting a wedding dress on and off is moderately slow. To avoid being rushed, plan a few hours so that you have enough time to browse and try on dresses.
Who should go with you for your bridal salon appointment?
Do not overwhelm yourself with having too many people come with you when you try on bridal gowns. Coming to an agreement among fewer individuals is always easier.
So, choose two or three of your closest ladies whose points of view are of a great significance to you.
Wear the right underwear
If you end up choosing to try on a strapless dress or one with very thin straps, wearing a colorful bra will be a bad choice, instead go with a white strapless one. Or if you want to see how a tight dress that shows off your curves looks on you, you want to make sure you are wearing seamless underwear, such as a nude thong.
Prepare yourself for Bridal sizing
What does Bridal sizing mean?
Well, it means that wedding gowns are usually one – two sizes higher than your regular clothing. Don't get frustrated about it because no one will know the size, but you.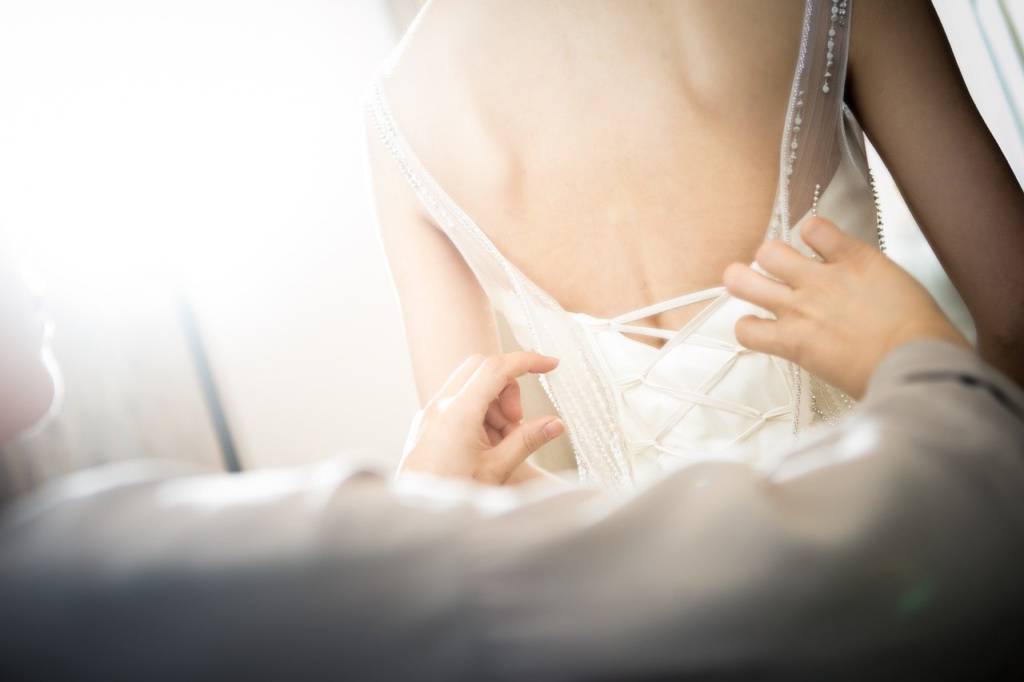 Shop for your current size
Most brides plan to lose weight before their wedding day, however when shopping for a wedding gown months before, make sure to buy a dress for your current size. Do not go smaller, because if you do lose weight right before your wedding, the dress can be taken in easily rather it being too tight.
Even though I had my dress sewn for me, 2 weeks before the wedding I had lost a little bit of weight due to the stress and a few corrections needed to be made.
Make the most of your Salon Visit
Trying on the beautiful wedding gowns is an amazing experience. I mean you only get married once right? Or at least for the most part – the first time is always oh so special. 
Once you put on the first dress and look at yourself in the mirror you will be stunned. 
The fairy tale will begin to feel so real. Then the next one will be so different and the next and next. Your head will be spinning by the end of the day.
Here's how to make sure your Bridal Salon visit is worthwhile:
Don't Rush
Take your time when trying on different gowns. Even if the dress isn't the One you want, stay in it for a few minutes. Pinpoint the elements you like and dislike, and afterwards use this to reduce your dress hunt.
Trying to move around with the gowns
Choose a gown in which you'll feel great to spend a whole day in. Try to dance, walk, and sit in it.
Snap photos of your top choices
Have those wonderful ladies you decided to bring with you take photos of you with the gowns you admire the most. Have them capture the front, back and side so you can view the gowns from different angles. You might consider to even have a video taken, this way you can see how the dress moves around.
Here are some of my favorite wedding dress fittings: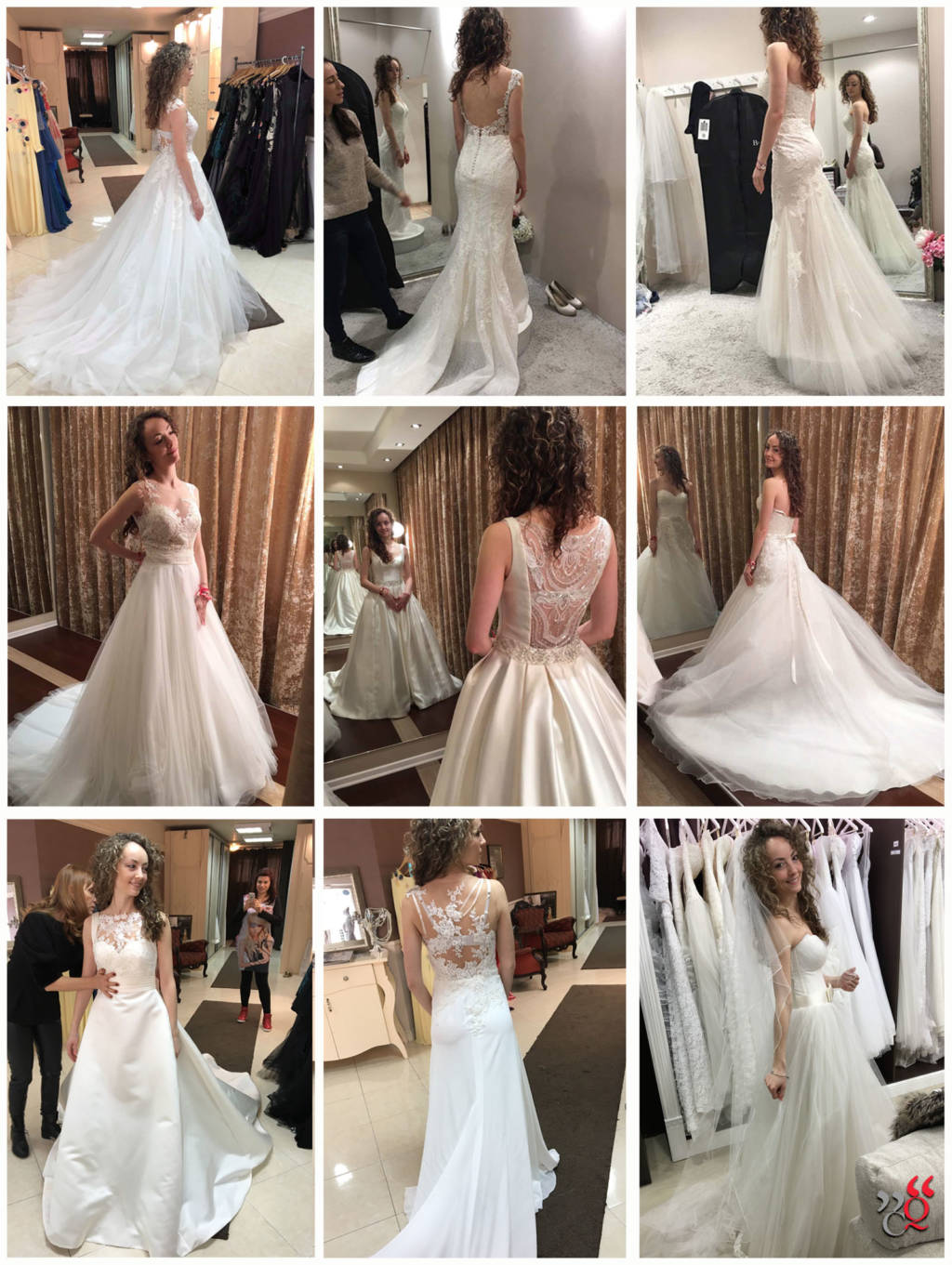 ❗️In case the bridal salon doesn't allow photos/videos, take notes on each dress by listing all the pros and cons.
Once you go home and look through the photos of you and those gorgeous wedding gowns you will be very confused, but will have a better idea of what you are looking for from now on. 
If you still have not decided on a dress, the next step is to look some more online and schedule another fitting with a different bridal boutique. 
The journey might be long or it may be very short depending on whether you know exactly what you want or when you put on a particular dress you know that it's the one.
I guess it is similar to buying a car. 
When you sit it in for the first time you know it is THE ONE. 
Well, that is how it was for me with my car, but let's not get carried away.
Buying "The One"
Usually, wedding dresses are made to order. When you have decided on which dress to buy, the bridal consultant will take your measurements and ask the designer for the closest fit.
Afterwards, you will pay a deposit fee (normally it's 50%), and when the dress is ready and shipped to you (either the salon or your home), you will pay the remaining costs.
❗️Some bridal salons might give you an offer payment plan, others on the other hand might give you a deal on your accessories, in-house alterations, or veil. So make sure to ask!
Keep in mind that you will most likely have between 2 and 5 fittings. They are likely to be scheduled three months before the wedding – this may cost you up to 15% of the dress's price.
In case the salon does not offer a seamstress, look for recommendations near you. Just remember, that you need to make sure to find someone who can handle the job – you definitely don't want anyone ruining your expensive bridal gown.
Underpinnings
Nearly all wedding dresses have a built-in bra, however if you desire to have additional support, take your favorite bra to your tailor and ask him/her to sew it into the dress.
In my case, I had my entire dress sewn for me, I had the choice of how I wanted my underpinnings to be. Due to the fact that my dress had an open back, I wanted to make sure I had extra support and I wasn't worried about any part of my upper body being exposed in any way. I bought a bra especially for the dress, so that it can be cut and sewn in an unnoticeable way.
That said:
For me personally, the widely spread wisdom 
When I put on the dress I will now it is THE ONE
did not happen. 
Not trying to scare you or anything, but unfortunately I did not find THE DRESS anywhere. 
So you ask what now?
Well, I decided to come up with my own design and found a seamstress to make everything happen.
Oh, what an experience that was!
I had a picture of the dress I wanted in my head so how hard could it be?! 
The best part was picking out the fabric and lace that I most certainly wanted and imagined. I was so excited that I couldn't wait and see how my dream dress will become a reality. 
However, the day we bought the fabric and everything was all set I went home and I started to panic. I literally had nightmares because I was scared that there is no way my dress will be what I pictured and I should have just settled with something at one of the bridal boutiques.
Soon the first fitting came and I thought I would be relieved. Well, that did not happen. 
I began to panic even more because the dress was so strange. The laces were pinned all over the top and the skirt didn't look much of a skirt. But I was assured that everything would begin to fall into place as we discuss the changes. 
Here is a photo of one of the first fittings: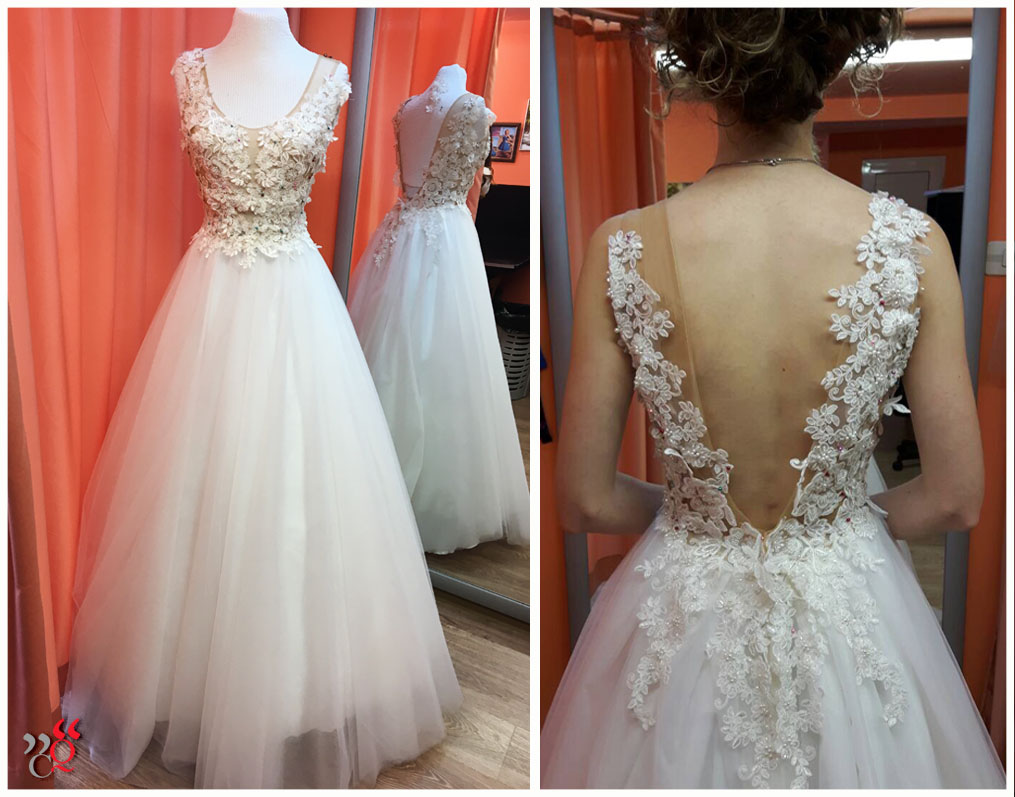 After a few fittings, the dress started to become full and we had to choose where each lace should go (should it be facing up or down); all very hard decisions to make. 
After months of sewing and numerous fittings my wedding gown was finally ready. I had the perfect princess shoes for my glamorous ball gown. 
I was finally going to take my dress home. 
When I put on the gown I was so happy, excited and my eyes were full of tears. I had finally found THE DRESS. It was a perfect fit and I was so ready to rock it down the aisle. 
Here is the end result of my wedding dress: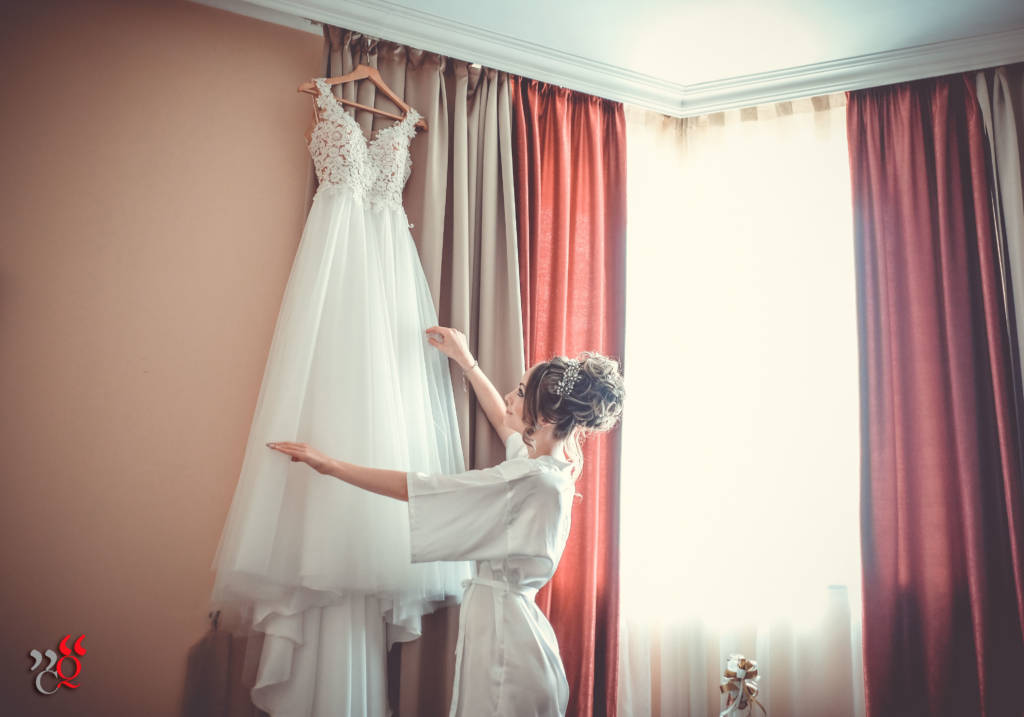 The Final Steps
The Veil
If you want to have a veil, think about the kind you prefer and take into consideration your venue. For instance, a cathedral veil might not be suitable on a windy beach, therefore you will need to think of a shorter option.
Based on your budget and desire, you can order a veil from a bridal designer, purchase it off the rack or have one created by a veil specialist.
Personally, I asked my seamstress to create one for me from the same fabric as the wedding gown. She then measured how long it should be based on the length of the dress's train.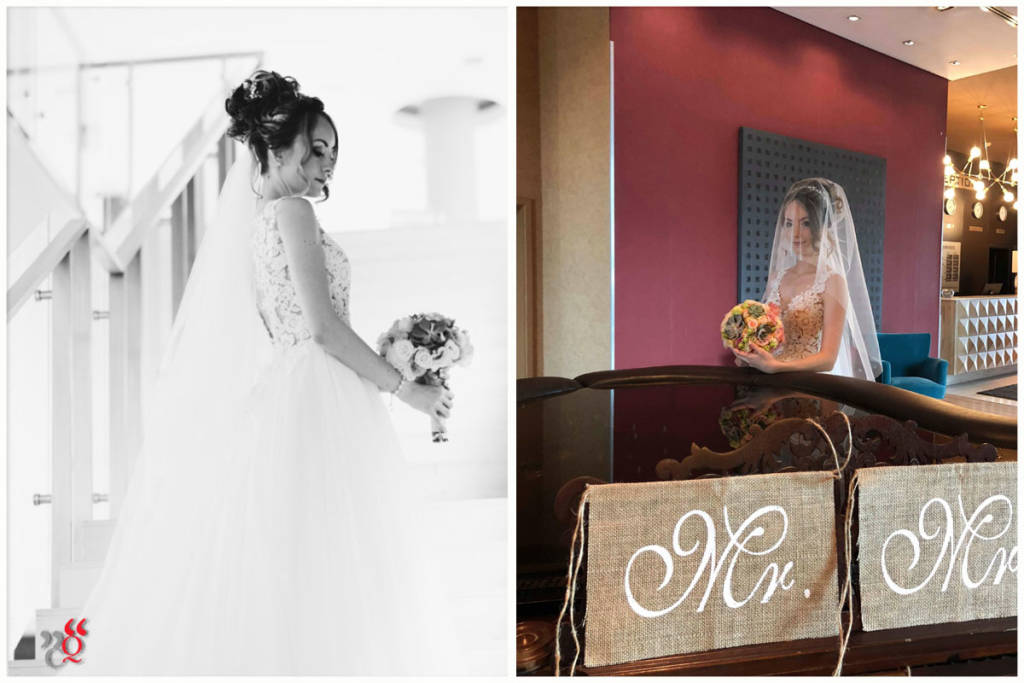 Bridal Tip: When taking into account the length of your veil (especially if you want it to fall in front of your face) make sure you have chosen your wedding hairstyle beforehand. This is an important part of the veil preparation, as it may be too short if you decide to have a big and high bun, thus the end result might not be what you expected.
Accessories
If you have chosen the jewellery you want to wear for your big day, bring them to one of your first fittings so that you can see how well they go with your dress. The same goes for any hair accessories that you want to use.
Also, don't forget to bring your shoes to your fitting so that the tailor can adjust the hem.
Here is what I decided to use for my hair accessory: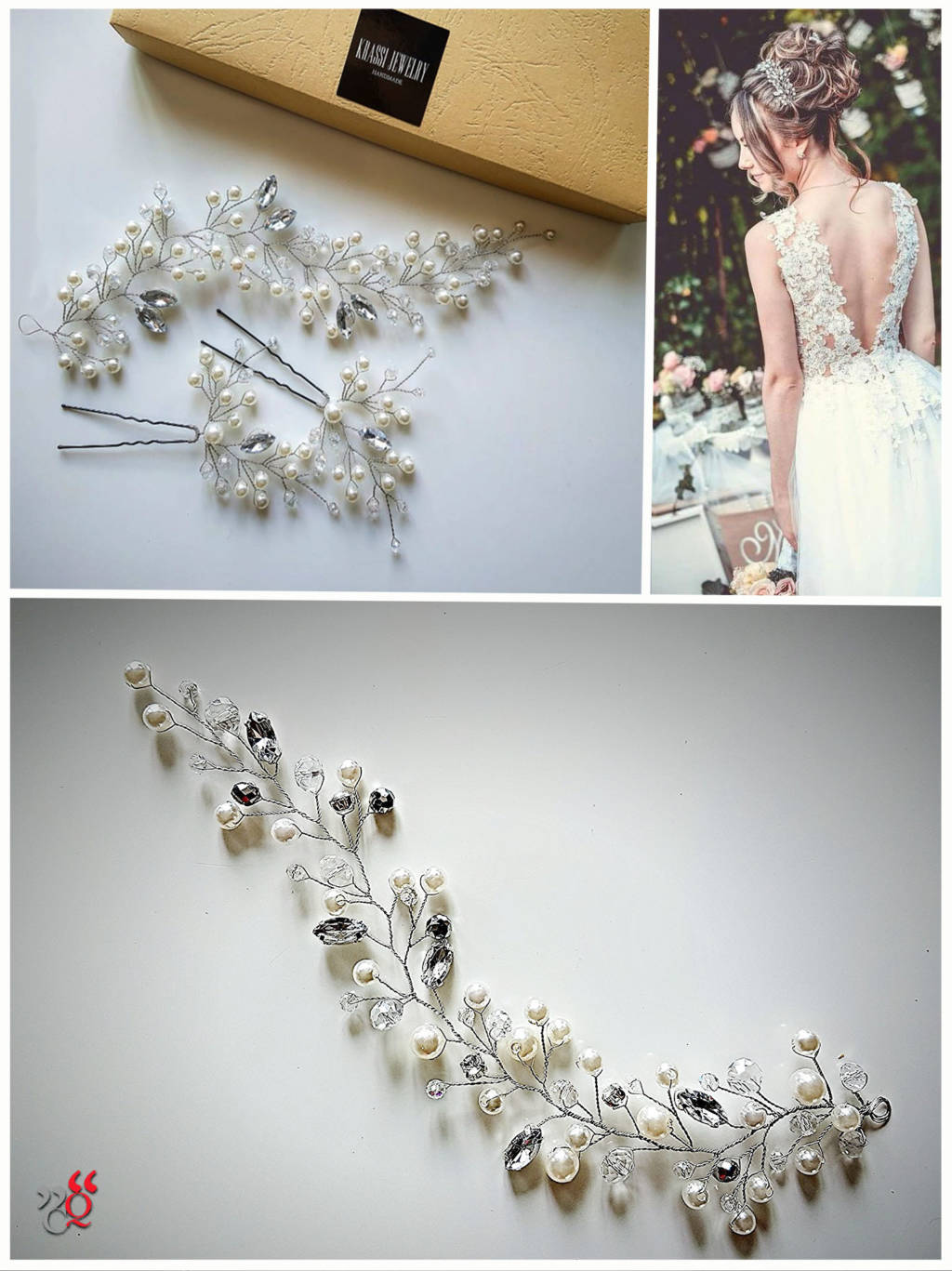 Finding your wedding dress is tough work, but remember that it's all worth it in the end.
Follow this ultimate guide and your journey in finding THE DRESS will be easy and the result is guaranteed to meet your expectations.
And remember that:
For every bride there is a perfect dress! If you can't find it, create it!
I would love to hear from you and see photos of your big day and beautiful wedding gown.
Leave a comment below and share photos of your astounding look.
[Viktoria Dobreff]