Wedding
Step-by-step guide to choosing your wedding decor
How to choose your wedding decor: step-by-step process and tips
This was one of my favorite parts of the wedding planning. I have always had some ideas in my head of the picture perfect wedding décor. 
Here I will share with you a step-by-step guide to choosing your wedding decor and my personal experience in doing so.
Simultaneously with your appearance, the wedding decor is another perfect way to show your charisma on your BIG day.
However, before you start to check off items from your checklist, remember: there's more to the process than just choosing the first things you come across.
Selecting wedding decor that's breathtaking and reflective of your desire as a couple calls for a lot of planning, but don't worry it will most certainly be worth it in the end!
Here is a step-by-step guide to aid you in finding the ideal wedding decor for your big day!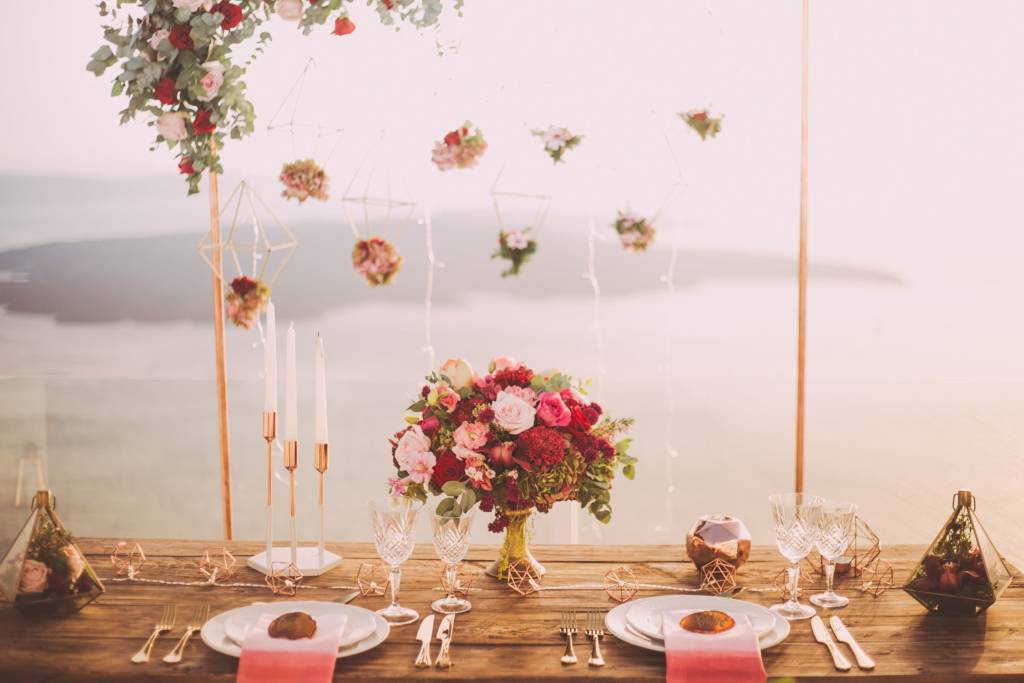 Step #1: Identify The Style of The Decor
It's impossible to choose a wedding decor without having an idea of the way you want your venue to look – Glamorous, Classic, Shabby Chic (check out more shabby chic ideas here), Romantic, Bohemian….etc.
So, step number one is to pinpoint a specific wedding style.
At first it might be overwhelming while looking through magazines or wedding websites. Personally, the more I looked the more I liked. There was a point in which I wanted everything I saw. Of course, that was impossible.
You might be tempted to stock up on decor, order some things online, but honestly, don't. Inspirational overload happens often and you might end up spending money on items you will not need or use.
Until you have chosen your wedding style and have a clear vision of how you want your venue to look, you might do more damage than good by gathering random decorative elements.
Don't panic! The original idea of your wedding is more than likely to change throughout the early stages of your wedding process, especially when you take into consideration the season, budget, guest count, etc.
Are you struggling in choosing or describing your wedding aesthetic?
I know how difficult it can be to make your dream wedding vision come to life. You might find putting it all in words or sticking to one style extremely hard. For this reason, don't think of your wedding style as "the be-all and end-all".
Aim your attention towards the feeling you wish your wedding to conjure; romantic, modern, edgy, etc., rather than limiting yourself to an exact theme (Vintage, Rustic, etc).
For example, you can tell your vendors that you would like a romantic atmosphere with bohemian undertones. This way they can leave some room for creativity and resilience when choosing your wedding decor.
Step #2: Be Resilient With Your Color Palette
Although its essential to know the overall colors you want, stay open-minded and try using the color palette as a guideline for your wedding decor instead of overwhelming yourself and trying to thoroughly match everything.
Rather than having "blue and white", for instance, try to think of a neutral color palette which consists of warmer or cooler undertones. The warmer blues will be towards the green colors (turquoise) and and cooler blues more towards the violet tones. With this approach you have the freedom in choosing several 'focus' colors while adding like tones to your decor, eventually creating a genuine look.
Personally, I did not want to have a specific wedding color. I have always thought that is so cliché. Just the thought of everything being pink, blue, green, purple, red, etc. made me go crazy.
I was fond of a few colors and decided to use all of them somehow. I wanted to have a different wedding, not the typical one; therefore I chose to go with pastel colors that would look very gentle and at the same time elegant.
I chose pastel pink, green, yellow, lilac and blue.
Okay, so now that I had chosen the overall colors I had to decide what type of flowers I would like to have in the bouquets and throughout the entire décor.
My favorite flower is the calla lily. Guess what?! I decided that I would not incorporate this flower into my wedding. I did not want white flowers (and before you say that the calla lily comes in other colors besides white I just didn't think it was the right choice).
I did not want white flowers because the color merges with the wedding dress, table cloths etc. 
My advice is to avoid white or very light colors, especially for the bride's bouquet – unless you incorporate another color to go with it so that it stands out! If you look at wedding photos of a bride holding a bouquet with white flowers, they seem to be missing – there is no contrast; you can see this in the photo below.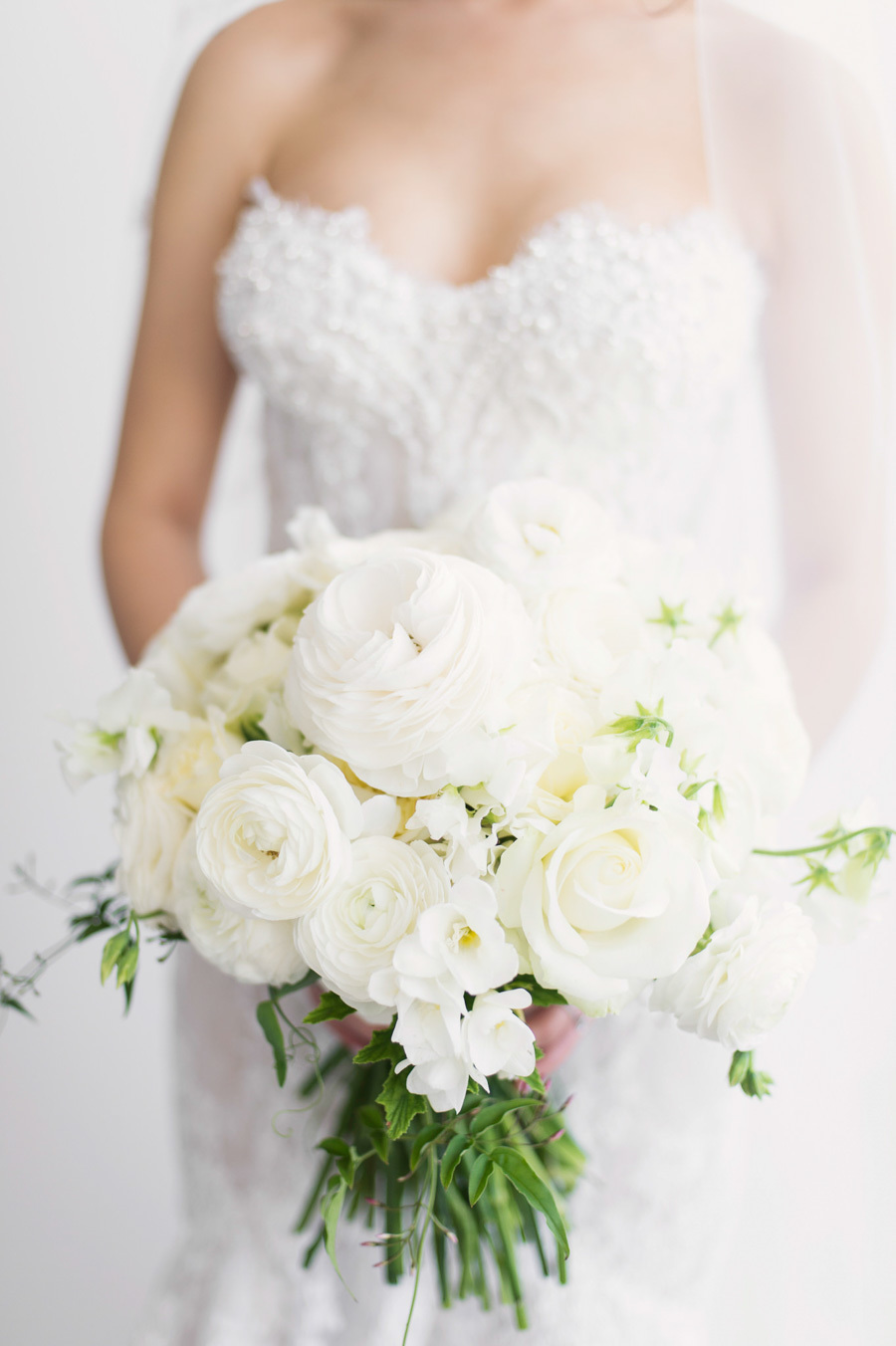 The flowers which I mainly chose for the decoration were roses, prairie gentian, paeonia lactiflora. Below you can see a photo of our bridesmaid bouquets.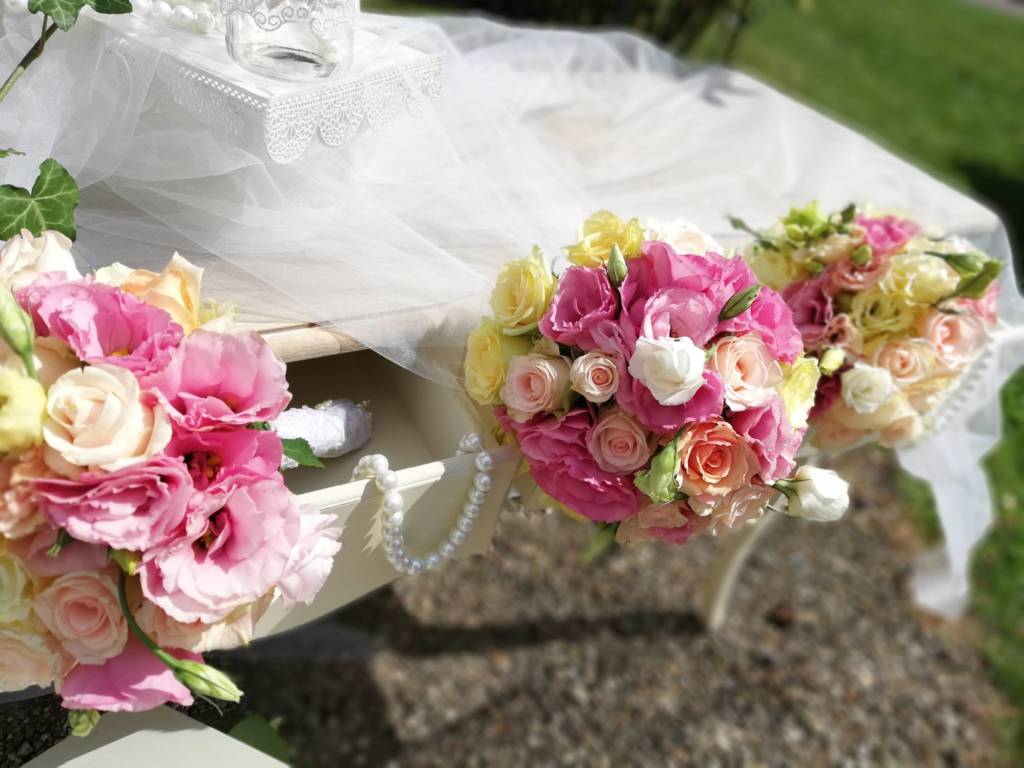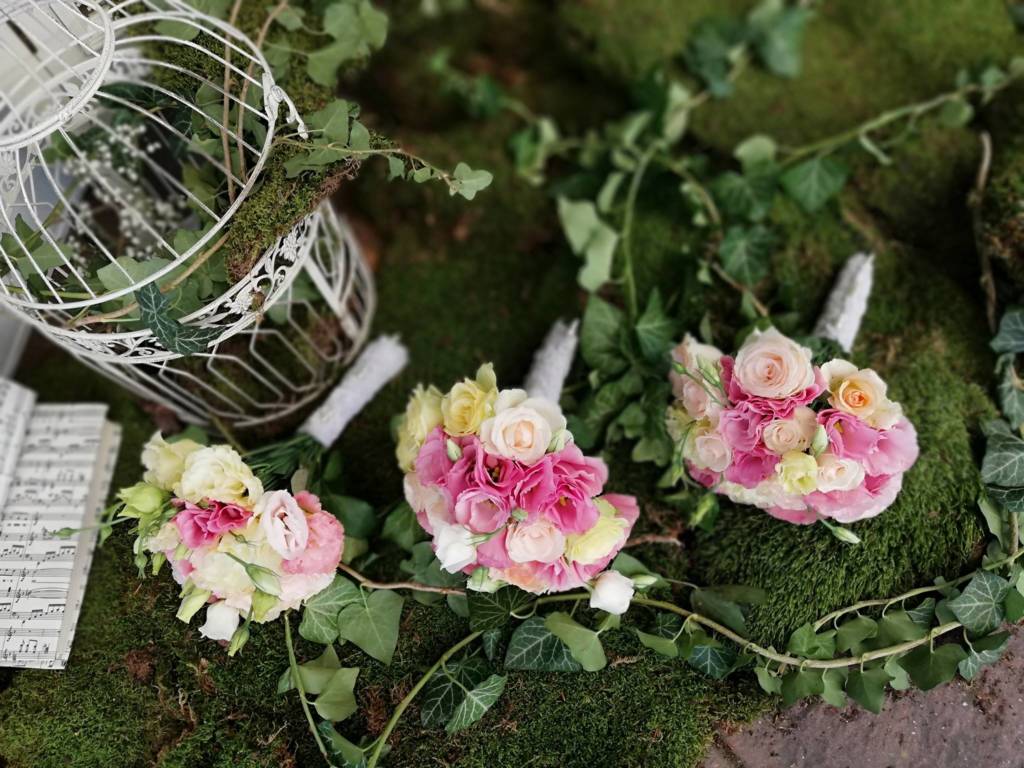 For my bridal bouquet I chose a mixture of roses, prairie gentian, paeonia lactiflora and echeveria moranii.
Quick tip: When choosing your decor and flowers you can incorporate elements from your attire. For example, my wedding dress had a lot of lace details which I decided to use in the bridal and bridesmaid bouquets as well as decorative hanging jars (you can see them later in the article), this way everything fit within the same style and was the perfect match. 
Here is a photo of my bridal bouquet: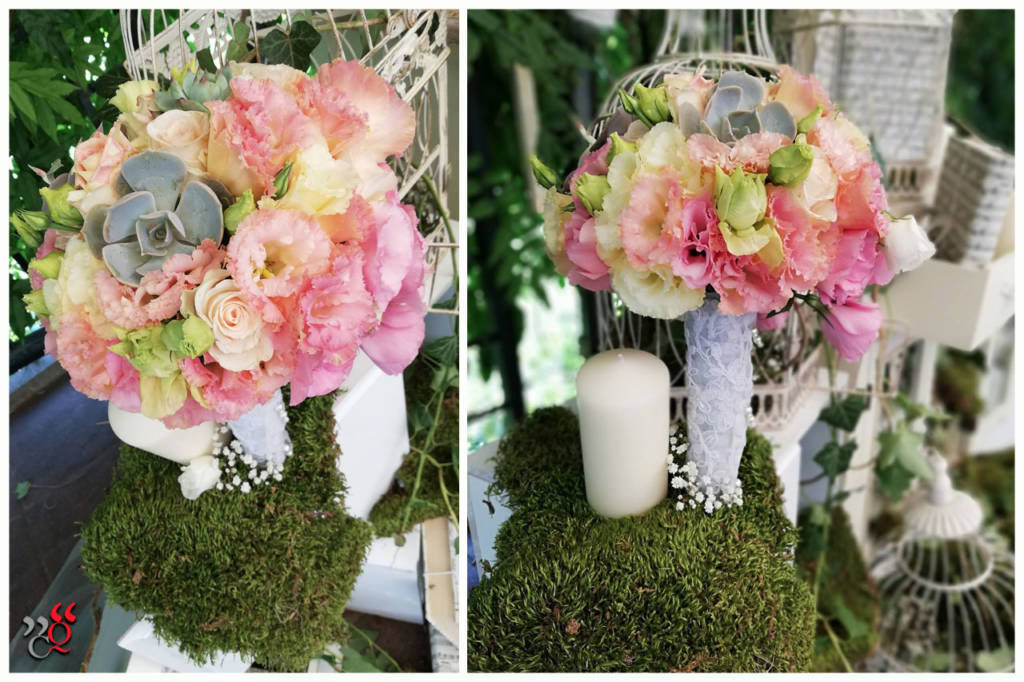 Step #3: Use Your Surroundings to Your Advantage
After choosing your wedding style, point your focus towards your venue. There is a possibility that it may already have charm or other decorations which can be to your advantage (an example of such can be: landscaped gardens, stained glass windows, scenery walls, fountains, ceiling beams, etc.) Thus, you should think about how you can arrange your wedding decor in a way to highlight those particular details, and how you can benefit from them as well as save some money.
Based on the venue and its design, you might benefit from skipping decor in certain areas due to the existing design. For instance, our venue had a green wedding arch which did not need much decor. We used hanging jars decorated with lace and filled with flowers.
Here are a couple of photos of our arch decor: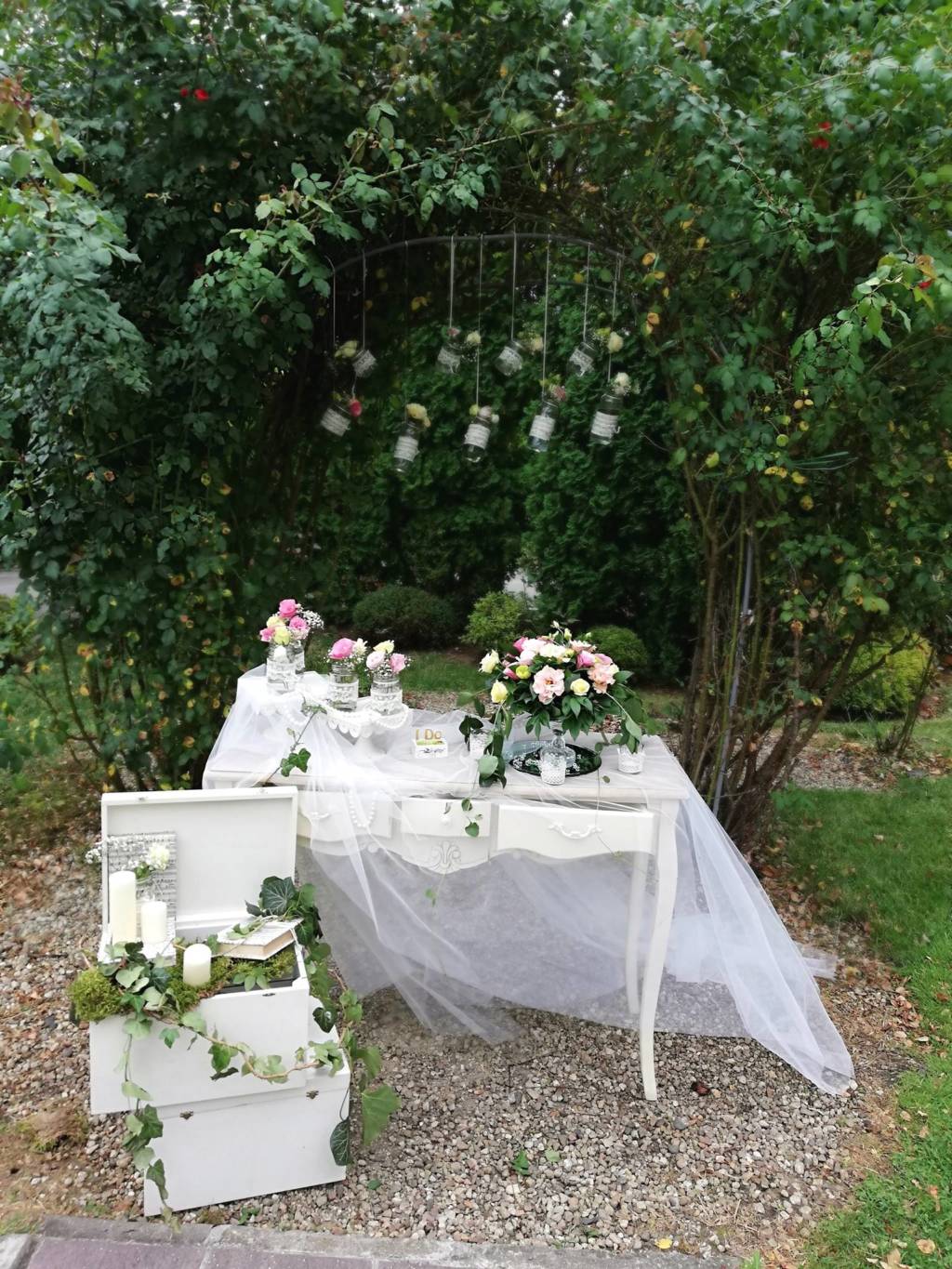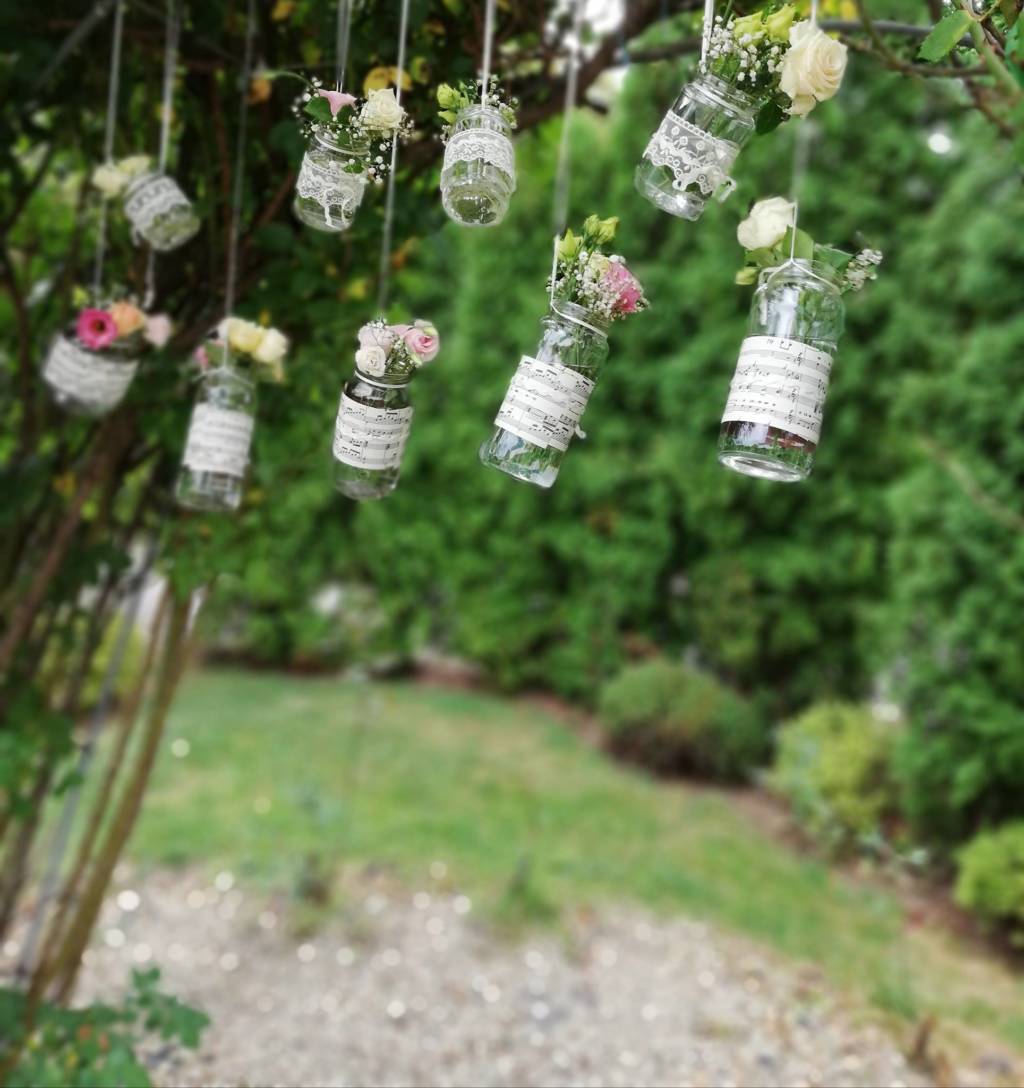 In the photo below you can see my bridal bouquet as well as the arch decor – (by using lace and alike colors in both you can see how well everything came into place).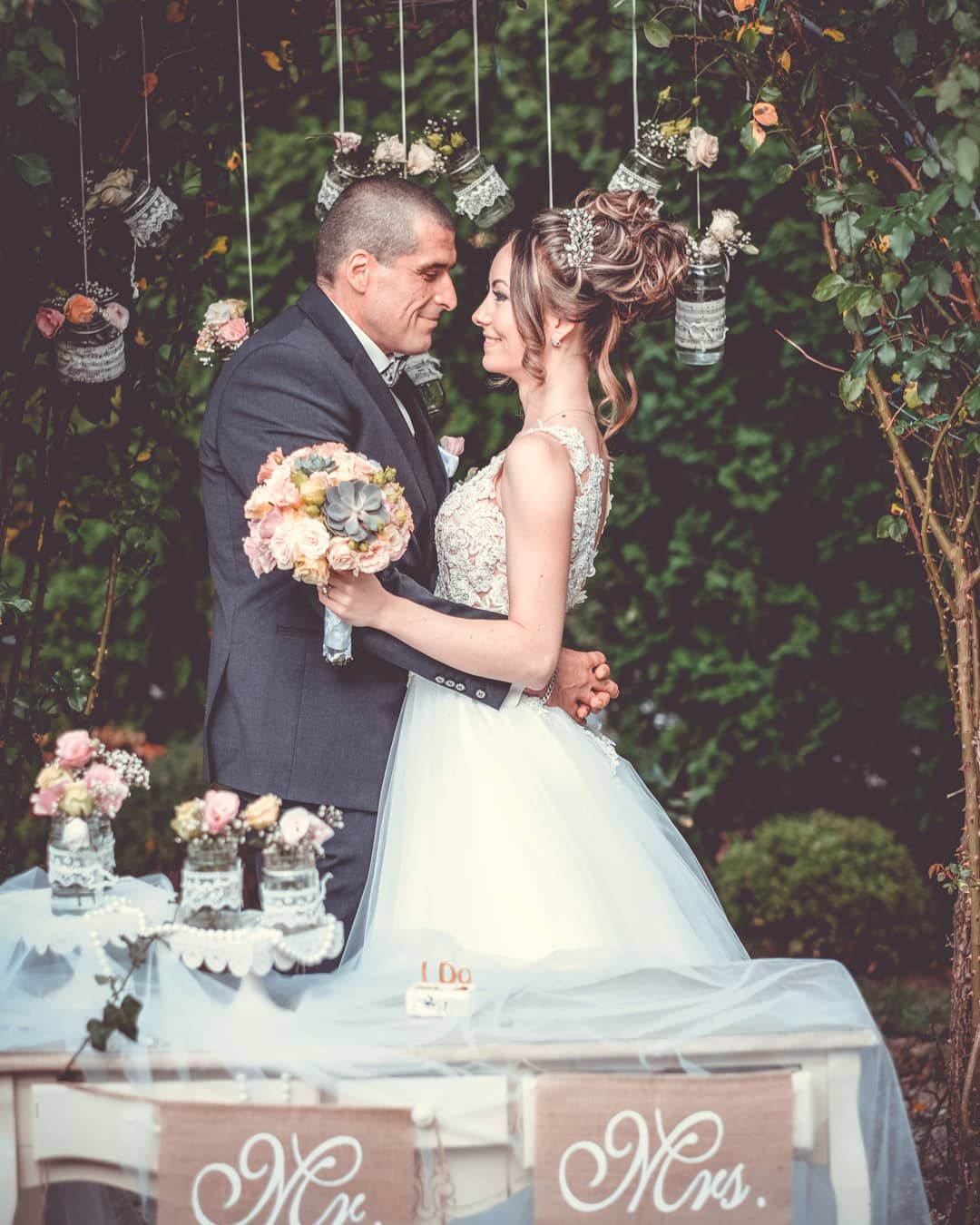 If you choose to get married at an outdoor venue like a lakefront, beach, or a location with a beautiful view, you might not need a lot of decor in the first place.
Actually, if you go crazy by having too much decor, that could draw away from the venue's scenery. You definitely don't want that, as that is probably the main reason you chose the location.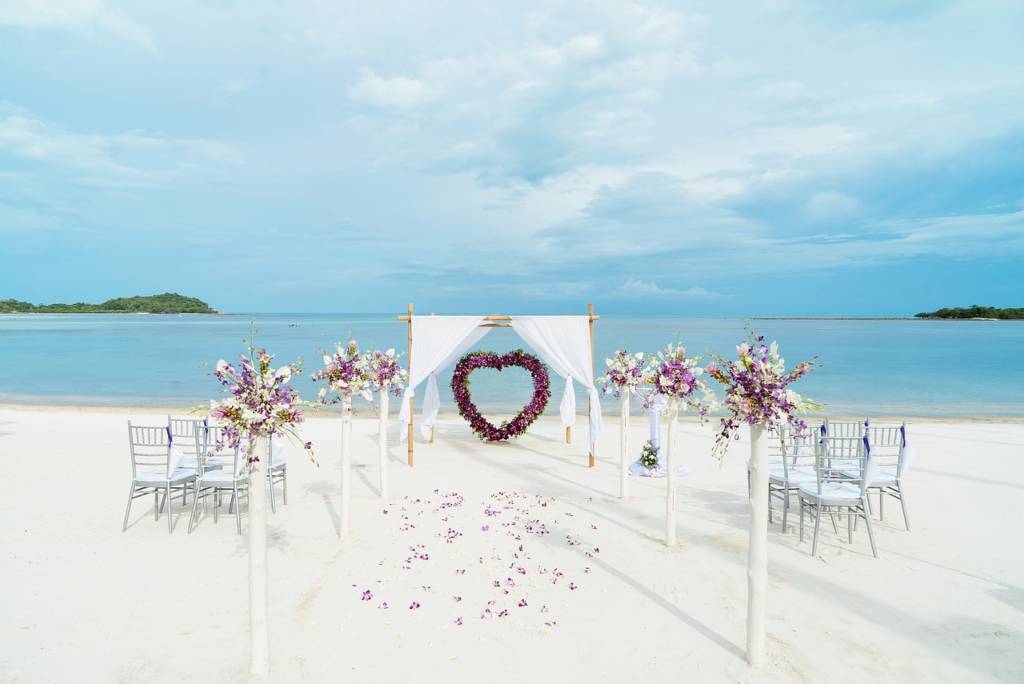 Make sure to use photos of the venue you have chosen in order to help yourself envision the decor you want to use, and where.
If you have decided to work with an event stylist or wedding planner, ask them to create mockups of the venue with different variations of the decor so that you can have an idea of what the end result will look like.
Personally, we decided to hire a wedding planner to help us arrange our decor. She sent us a lot of ideas based on our desires and examples of previous decors she had done similar to what we wanted our venue to look like. This helped us envision the end result and what would be best to incorporate.
Step #4: Begin with the Essentials
At this stage, you should have chosen your venue and have a pretty good idea what it requires to turn into the best place for your big day.
Without a doubt, it's time to begin selecting your wedding decor!
In order to prevent becoming overwhelmed when you begin to go through your wedding decor checklist, begin with the most important items. This consists of all the functional parts, such as chairs, tables, lighting, flatware, china. Also, you will need to have escort cards or a seating chart, in order for the guests to know where they will sit during the reception.
Afterwards, continue with the decorative essentials, like reception centerpieces, ceremony aisle markers, table numbers, altar backdrop. Remember that none of these elements are a must in regards to functionality, but they are essential in terms of constructing and altering the look and feel of your wedding space, notably the centerpieces.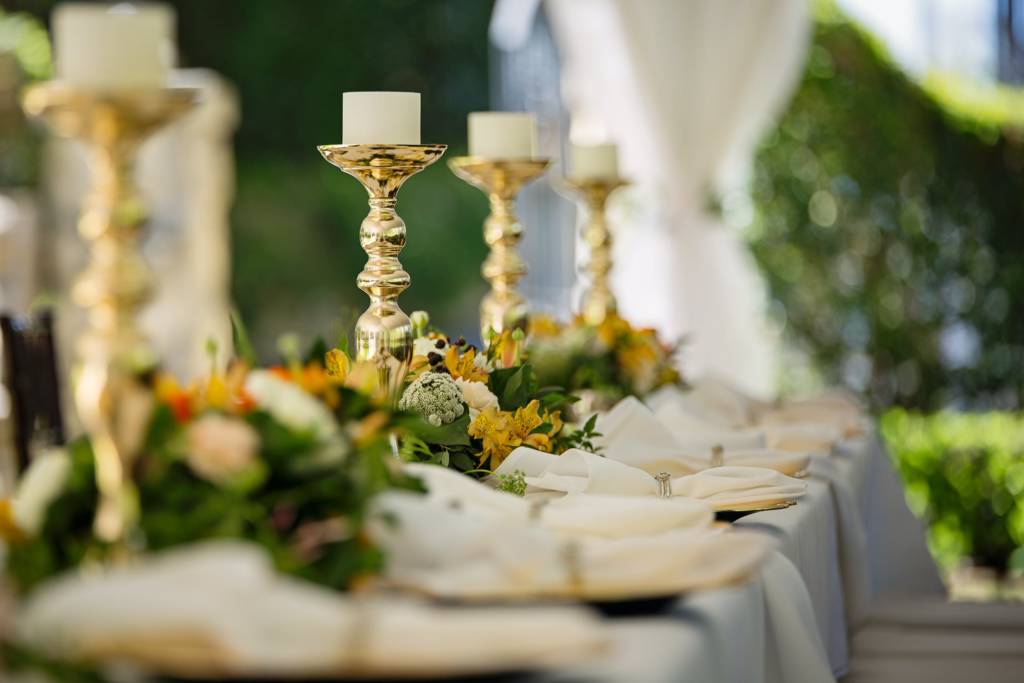 You might want to choose simple votive candles and greenery or lavish hanging arrangements. No matter what centerpieces you desire to have, they will be the main focus points in your reception area, therefore they must match your wedding style by including the same colors and overall vibe to your decor.
We decided to use a flower centerpiece on top of a round mirror with crystals all surrounded by clear glass (decorated with lace) votive candles (shown in the photo below).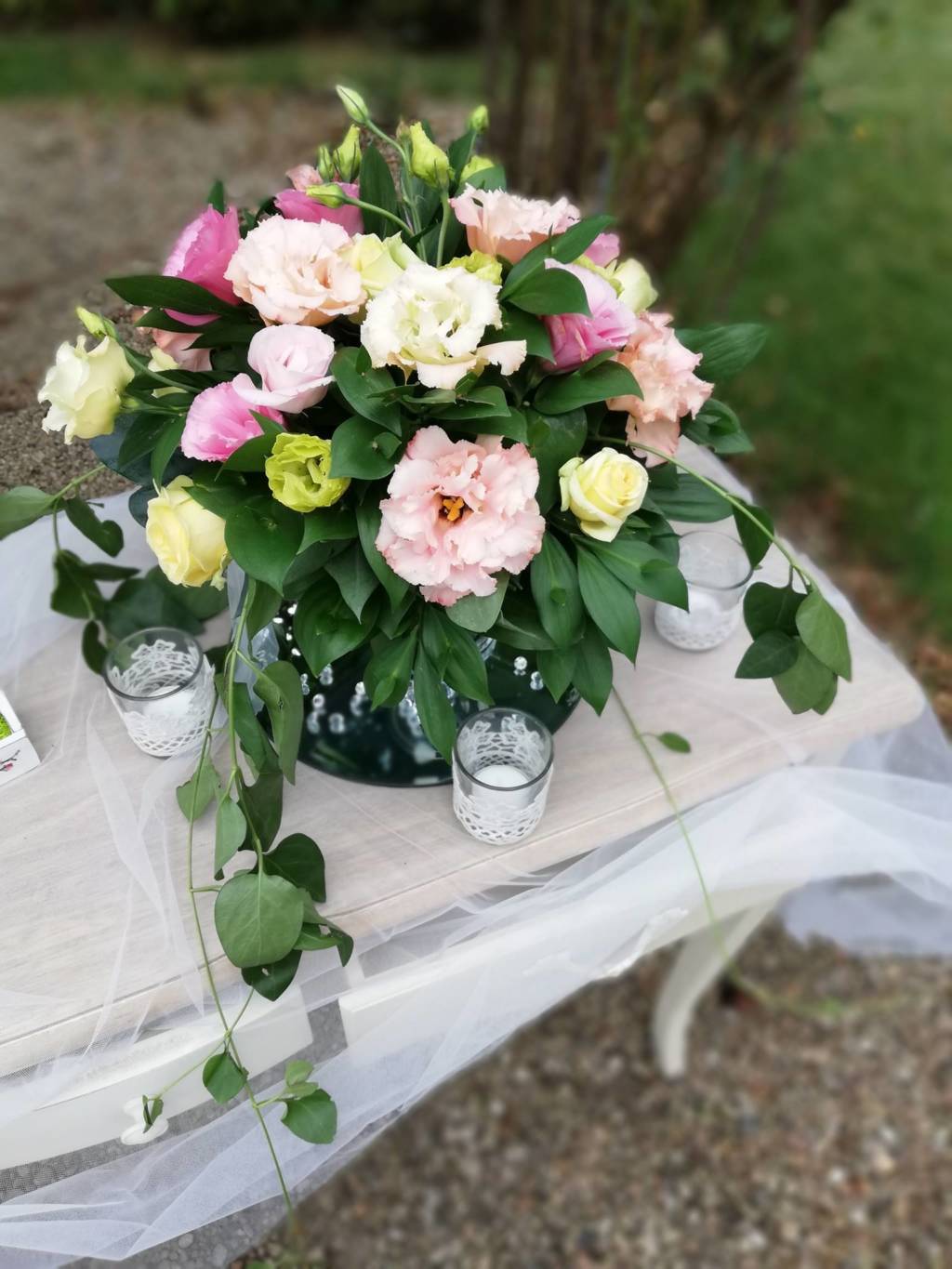 Regarding aisle markers, for our wedding we chose lanterns and bird cages filled with the same flowers throughout the entire decor placed in jars decorated with lace. Also, inside was a book, candle and other greenery which went along with the outdoor environment of the venue. You can see this decor in the photos shown below: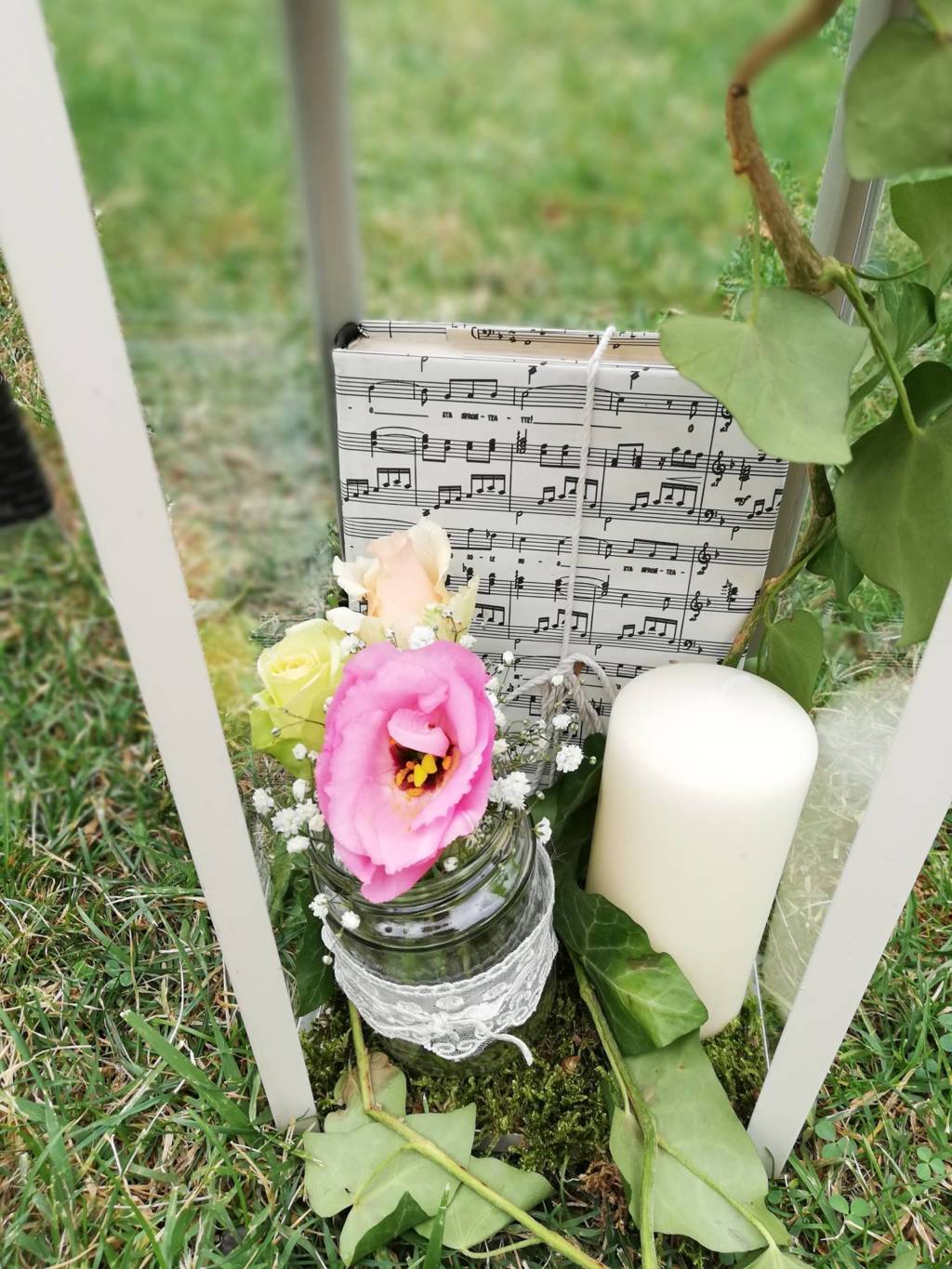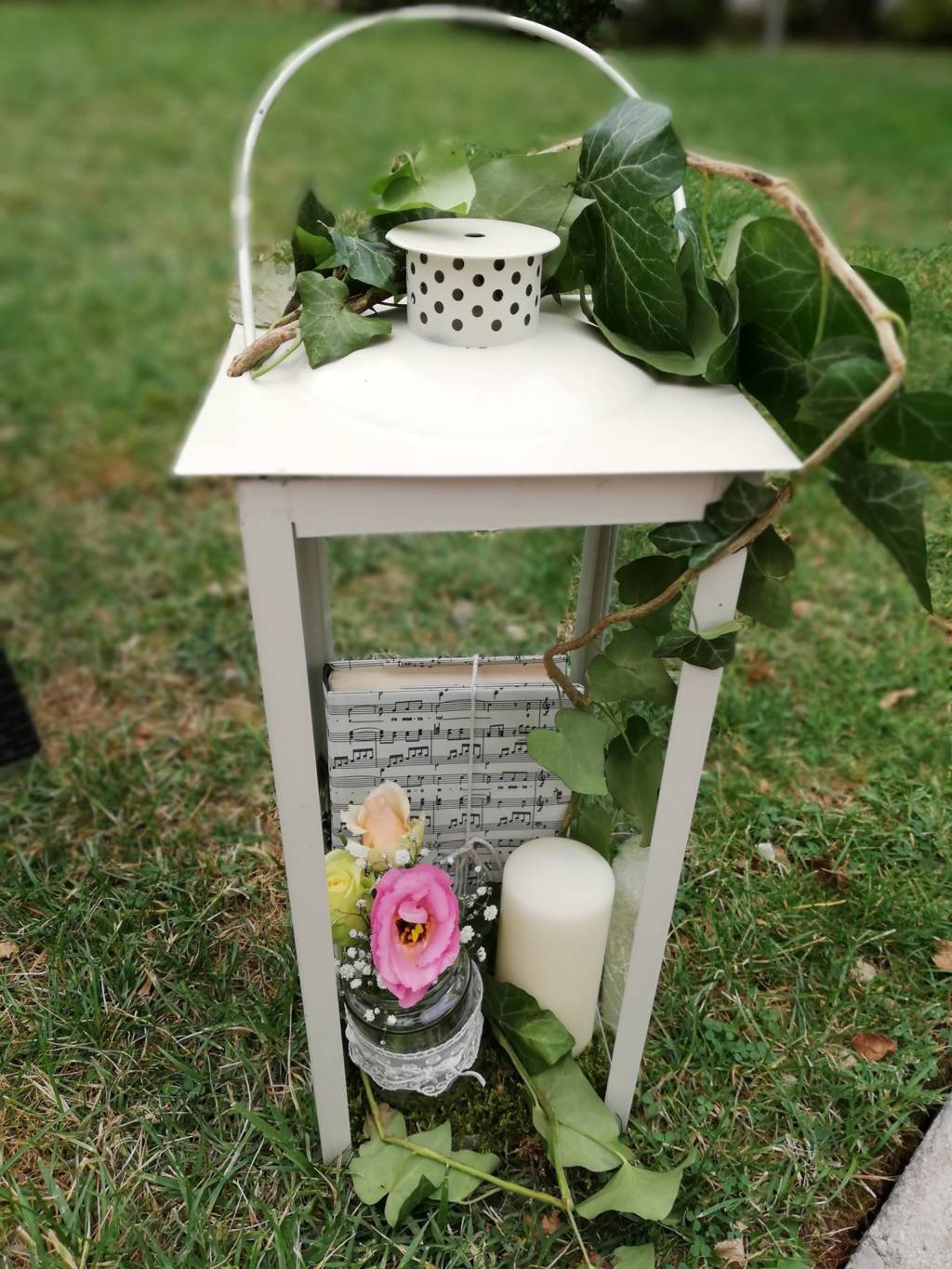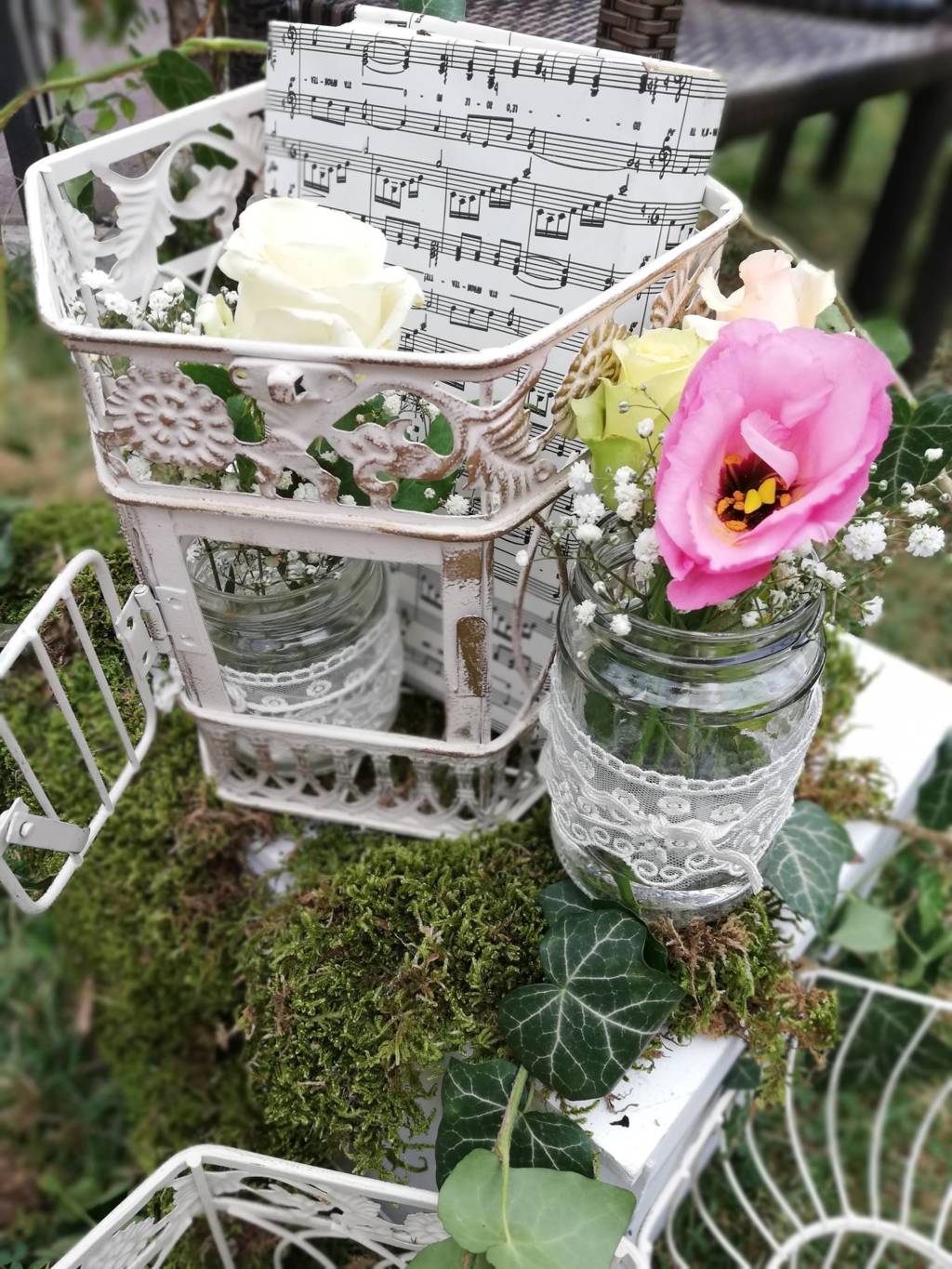 Step #5: Include the Secondary Elements
After you have chosen the most essential wedding decor elements, you can aim your attention on the smaller details.
Try and think about items that aren't mandatory, but they will increase your guests' overall experience and act as an addition to your wedding style.
For instance, you can choose to use place cards if you want to assign your guests to a particular seat at their table, and you may choose from various different options that go beyond the classical paper cards.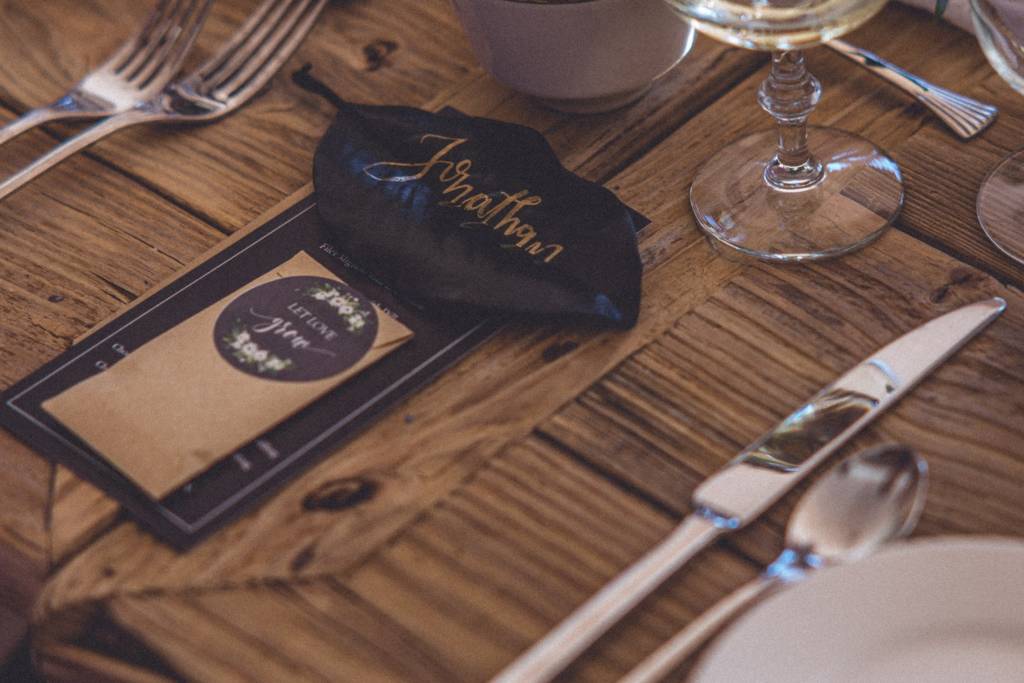 Menu cards are also available as a choice, particularly if your guests have chosen their food on the RSVP cards. However they are awesome as they create an explicit atmosphere as well as remind everyone of their meal choices.
Finally, a wedding signage is an effortless way to complete your venue. You can exhibit signs to draw attention to a particular thing or use them simply as decorative highlight that features a romantic quote or a worthwhile sentiment.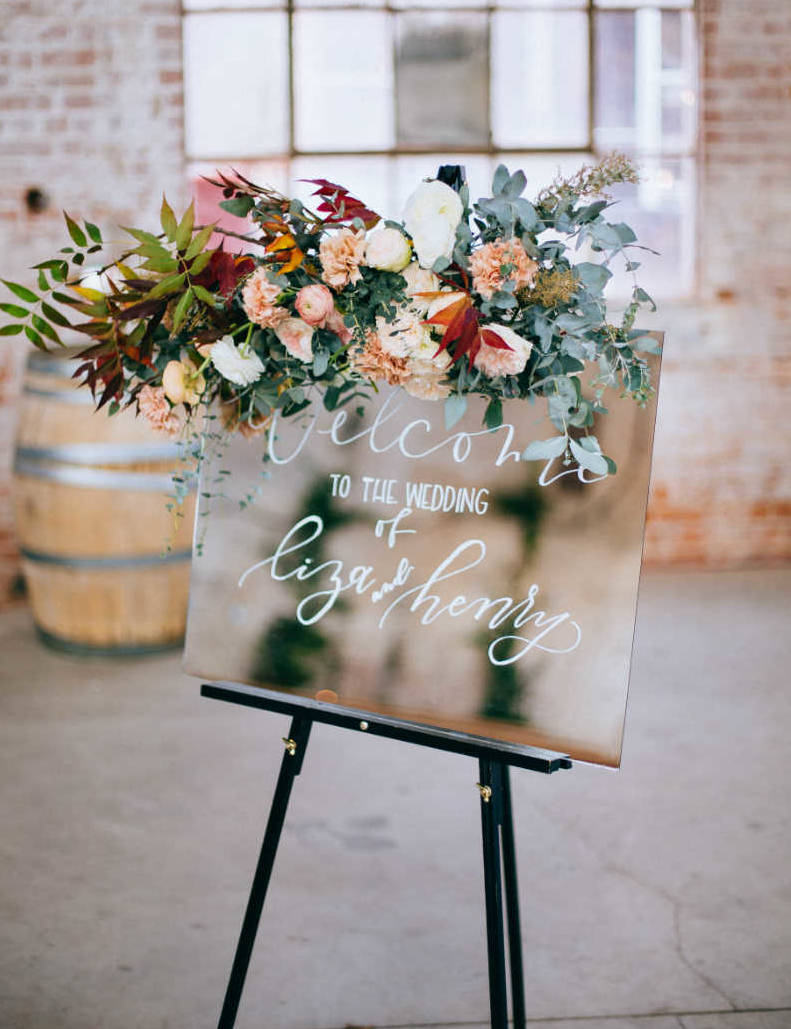 Step #6: Wrap up With Extravagant Items
If you have not gone over your budget, you might take into consideration adding some extravagant items.
You might have dreamt of having luxurious backdrops (hanging macrame) or vintage furniture. Such items can be a great addition to areas in your venue that need to be filled, or if you desire to dazzle your guests with a stunning element.
If you are looking to create a celebrity style wedding, you might consider adding a flower wall.
Adding a dessert display is also an option that can surprise your guests in a nice way.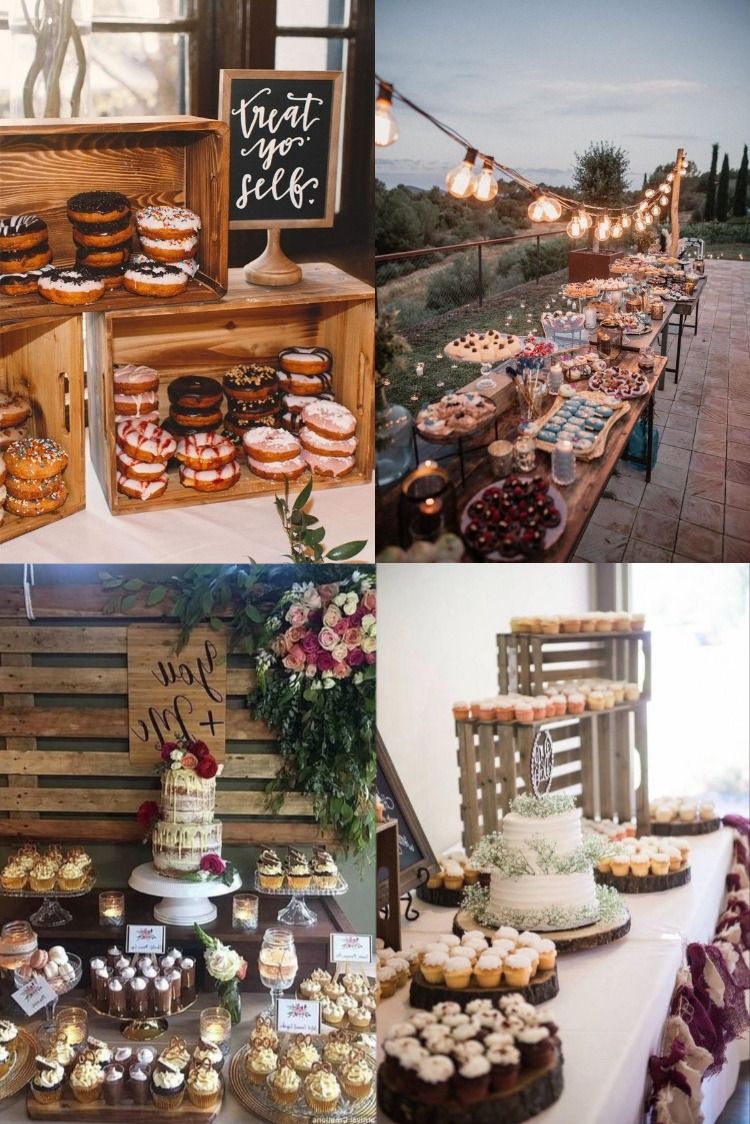 There are many examples in which you can astonish your guests and create an atmosphere that will allow them to have an amazing time.
We decided to include a wedding photo corner. We thought this would bring more elegance to our venue as well as provide us with an area where we can take photos with all of our guests.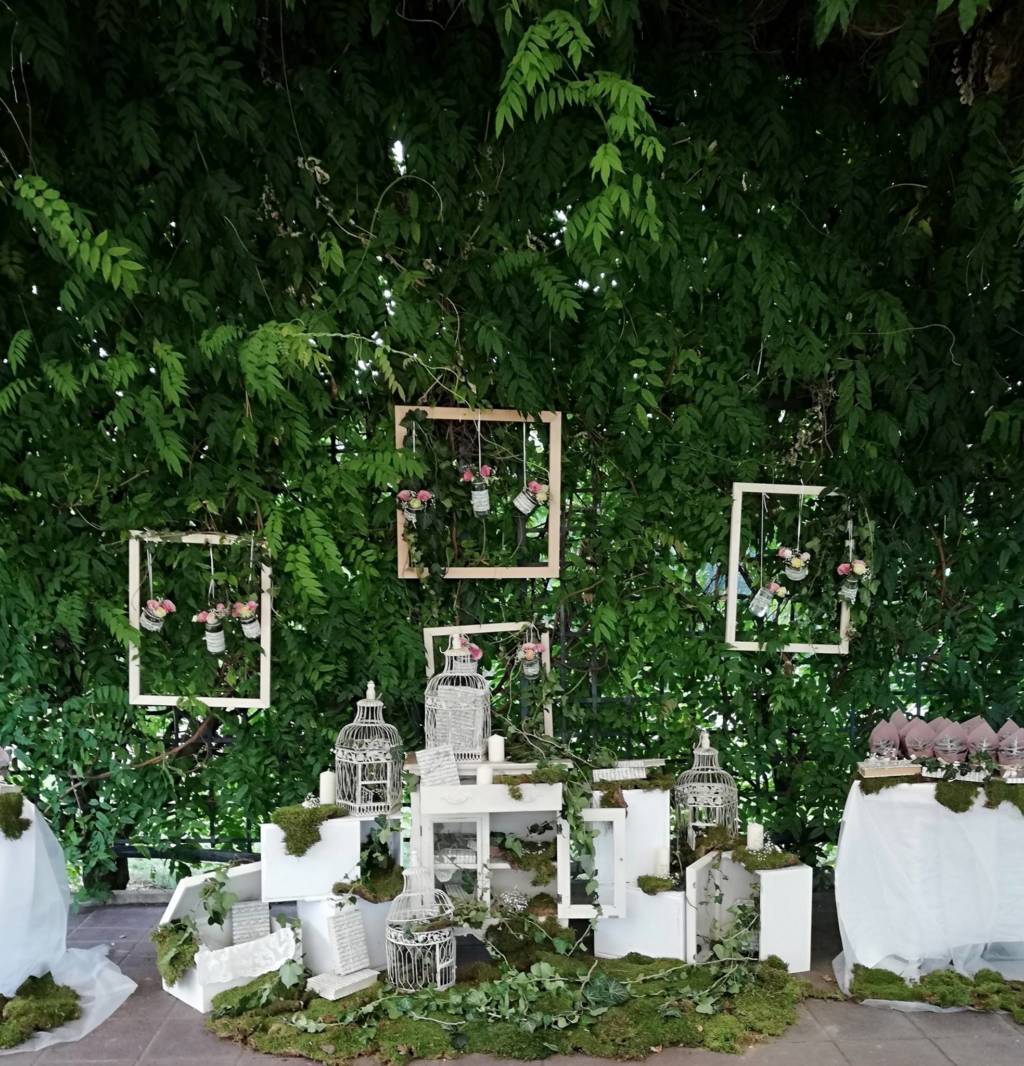 To conclude, choosing your wedding decor can be an overwhelming process. Take your time, relax, and make sure to plan ahead.
There will always be something that you could have and should have done better, trust me.
Every year there are new and more modern ideas that brides incorporate in their weddings. We cannot have it all in only one day. Just make sure you're happy with what you choose and don't make compromises that will lead to regrets in the end.
I am sure your wedding day will be perfect and your wedding decor will be beautiful.
I would love to hear from you and see the wedding decor you decided to use for your Big day.
Leave a comment below and share your photos and thoughts of your breathtaking wedding decor.
❗️Don't forget to check out the fundamental guide on How to choose your wedding dress (With Examples)
[Viktoria Dobreff]
Keep yourself motivated during your wedding preparation with our wedding quotes:
---
---